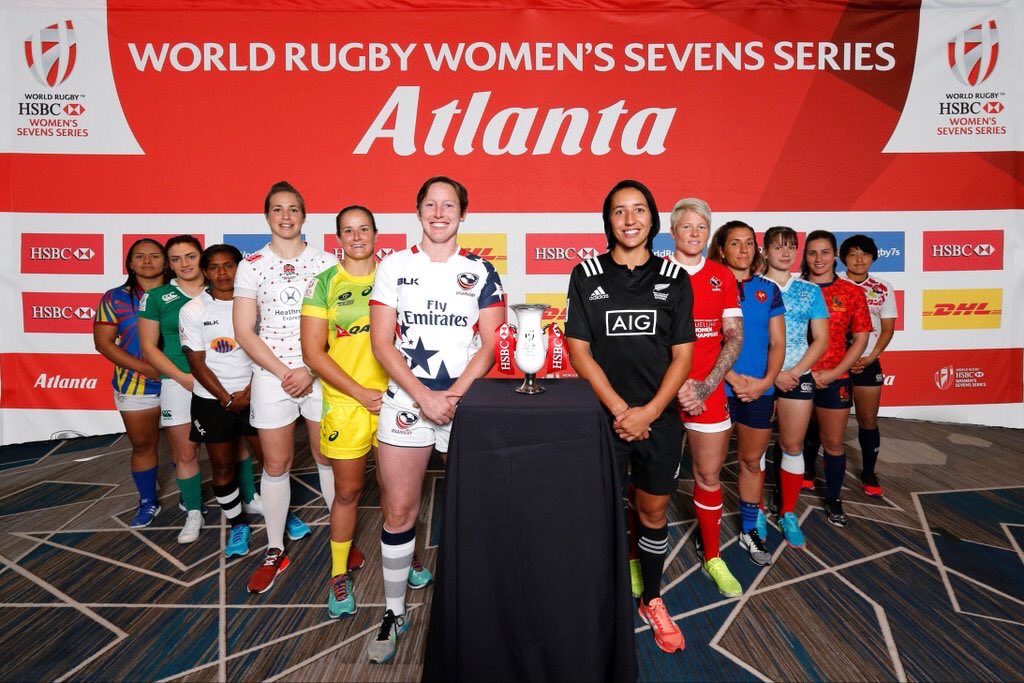 To say it's been a whirlwind nine months for the Eagles would be a massive understatement. First they narrowly missed out on the top four on last year's Series, then they qualified for the Olympics, lost their coach, gained a new one, finished second to last in Dubai, did much better and finished fourth in Brazil, lost their coach again, and now have gained a new one with only three tournaments to go before the Olympics. It's been a lot of turmoil, not exactly what you want heading into the biggest tournament of your program's existence but it is what it is and the team is going to have to get ready for a strong showing in their home tournament.
Although the players have change the core group of the team remains. Players like Alev Kelter, Jillion Potter, Kristen Thomas, and Lauren Doyle are all central to the team's efforts and as long as they are playing well the team is a threat to finish in the top four. Kelter in particular should be singled out for her growth as a player. She went from a cross over just a few years ago to arguably being the best player on the team.
Even more, having Richie Walker come in as head coach isn't as dramatic of a change as going to a coach completely unfamiliar with the program. Walker was an assistant under Ric Suggitt and is very familiar to nearly every single player on the team. In many ways the team will be able to revert back to the way they played under Suggitt that saw them have so much success.
Take the jump to read more.
Still, with only three more tournaments to Rio give or take an extra trip or two, the pressure is going to be on the team to perform well. This is their dress rehearsal for the Olympics and they aren't going to get a more friendly crowd than the one in Atlanta. If everything goes their way then it could catapult them to a strong rest of the season and the Olympics. If not, then the questions will continue to be asked.
The Team
Walker has made a number of changes from the last squad former coach Jules McCoy put together. Into the team for the first time is Penn State standout Megan Bonny and former West Point player Nicole Heavierland. Also into the team are Richelle Stephen and Kate Zackary. Lauren Doyle is also back after an injury. Her return is vital to the team as she provides a veteran presence. Most notably out of the team is Kelly Griffin who will miss her first ever tournament. Vix Folayan also continues to be left out.
Squad:
Meya Bizer, Ryan Carlyle, Megan Bonny, Bui Baravilala, Lauren Doyle, Jessica Javelet, Alev Kelter, Richelle Stephens, Kristen Thomas, Kate Zackary, Nicole Heavierland, Jillion Potter
The Opponents
*all on Friday
Spain (2:20 p.m. et/11:20 a.m. pt):
Spain have not been good this year and they sit in tenth place through two rounds. They did make the Cup quarterfinals in Dubai but finished in eighth place. They finished 11th in Brazil. They U.S. won big over Spain 33-0 in Brazil. This is a match the Eagles should be able to win easily and get their feet under them.
Japan (5:04 p.m. et/2:04 p.m. pt)
: Japan are one of only two core teams worse that Spain this year. They have yet to make the Cup quarterfinals with their best finish a win in the Bowl in Dubai. This is another match the team should win in order to make the Cup round.
New Zealand (7:26 p.m. et/4:26 p.m. pt):
The U.S. have played New Zealand twice this year, both in Brazil. They lost the meetings a combined 63-5. New Zealand haven't been the best team this year, that distinction goes to Australia followed by Canada, but they are very, very strong and a favorite to medal in Rio. The U.S. would have to be thrilled with a victory but realistically they are simply looking to compete.
Keys to the Tournament
Feed Off The Crowd:
The U.S. is fortunate to get one home tournament a year and they are going to have thousands of people behind them. With everything that has gone on around the team the past few months having the crowds positivity behind them is only going to be a good thing.
Start Strong:
The team has two good opportunities for solid wins against Spain and Japan early. They need to use that to create confidence.
Feel Comfortable:
Many players were shifted positions under McCoy and they looked visibly uncomfortable and unsure what to do on the pitch. They will shift back to more familiar positions this go around and feeling comfortable should help improve their performance.
The Takeaway
As stated, this is a tell all tournament for the team. They can either shake off what's happened the last few months or let the questions continued to be asked. Given their draw it's hard to see them not making the Cup quarterfinals, giving them a good chance on day two.