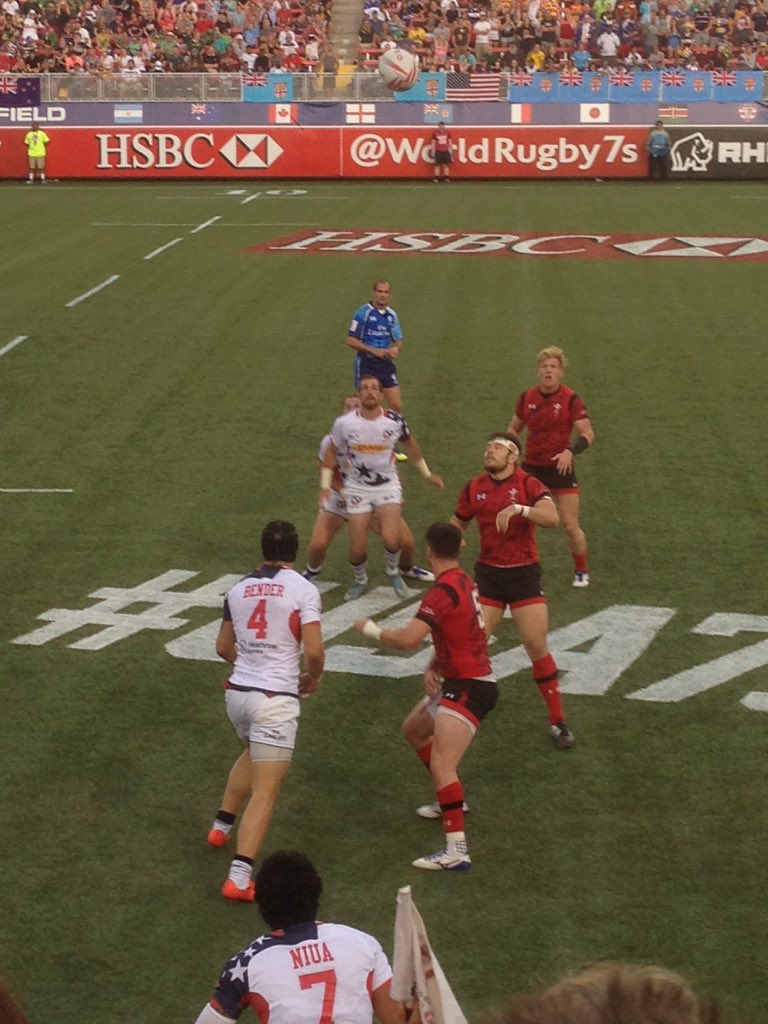 Shrugging off all of the distracts from the festivities leading up to the Vegas 7s the Eagles beat Wales 19-12. They will next move on to face rivals Canada at 10:36 p.m. et/7:36 p.m. pt.
Feeding off the energy from the crowd the Eagles came out firing. A big win at the breakdown from Zack Test, something they would do well all match, gave the Eagles their first attacking opportunity and they took full advantage. Running through the phases the ball was worked to Martin Iosefo who froze the defense to go in for the try. Madison Hughes converted and the Eagles led 7-0.
It wasn't a perfect match for the Eagles. A couple of mistakes gave Wales opportunities that they wouldn't miss. The first came when the ball was spilled and the Welsh player split the defense for the try. The conversion made it 7-7.
Take the jump to read more.
As the match went back and forth it was the Eagles turn to score next. Recognizing that no Welsh player was back on defense Folau Niua put in a kick over the defense. Carlin Isles beat the Welsh defender to the ball for the Eagles second try of the night. However, it wouldn't last. Pushing for a try with only seconds before the half Isles spilled the ball only inches from breaking free for the try. Wales pounced to tie the game at half 12-12.
In the second half the U.S. came out more focused. Thanks to their strong work at the breakdown they were able to win territory and possession. Still, the Welsh defense was equally good at times and on a couple of occasions they were able to stop the U.S. from scoring the go-ahead try. But as they say, possession wins in 7s and thanks to their long stretches with the ball they eventual got the winning score. A break from Bender and then some solid offloads from Unufe found the supporting Folau Niua for the try.
Overall it may not have been the perfect match for the Eagles but it shook out the cobwebs and got them ready for Canada.
Starters: Niua, Test, Barrett, Hughes, Bender, Isles, Iosefo