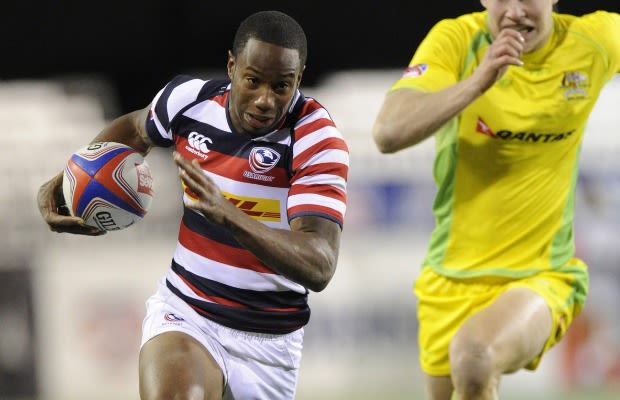 All eyes are going to be on the Eagles this weekend in Vegas. Not only are they the home team but with higher expectations on the team this year they are going to be watched to see if they can once again break into the top four. Their win at the London 7s last year and their top four finish in Dubai this season have all eyes watching them to see if they can crack into the top group of teams that includes England, Fiji, South Africa, and New Zealand.
Back to back finishes in the Bowl semi-finals can't have anyone on the team satisfied, especially head coach Mike Friday. He doesn't expect the team to settle for just being good, he expects them to dominate. Over the last few tournaments that Eagles have showed that they can pull out the right results to make the Cup quarterfinals but they need to show once again that they get over the hump and make it to the top four. It's not going to be easy but with a boistrous home crowd cheering them on they have a good chance of doing just that.
Take the jump to read more.
The Team
Mike Friday has once again named a largely unchanged team. For the past several years it's been the core of Carlin Isles, Danny Barrett, Zack Test, Folau Niua, Maka Unufe, Madison Hughes, and Perry Baker. All of those players return along with stalwarts Garrett Bender, Martin Iosefo, and Nate Augspurger. Bender missed Wellington and Sydney but is back and will give the Eagles a great presence at the breakdown. Iosefo also did well when he came in for the Sydney leg. He's done fairly well at filling in for the missing Andrew Durutalo in that regard this year.
Also staying on team team from the Southern Hemisphere trip is Ben Pinkelman. He impressed in his debut and looks to be a big player for the Eagles moving forward. Will Holder is also on the team and brings a great aerial presence.
The team is really going to benefit from having Maka Unufe back. The U.S. seemed disjointed at times in Wellington and Sydney and it's not fair to say that's all on Unufe missing but it's telling that it happened while he was gone. Make no mistake, he is a key cog in this team, especially in linking up quickly with Isles or Baker.
Squad:
Carlin Isles, Ben Pinkelman, Danny Barrett, Garrett Bender, Zack Test, Will Holder, Folau Niua, Maka Unufe, Nate Augspurger, Madison Hughes, Perry Baker, Martin Iosefo
The Opponents
Wales (7:57 p.m. et/4:57 p.m. pt, Friday): Neglect has Wales struggling this year. With most of the Great Britain team likely to come from England it looks like the Welsh Rugby Union has chosen to neglect the 7s team. They now only have a few centrally contracted players and they have been begging the four teams in Wales for players. They've finished as Bowl semi-finalists once, won a Shield, and finished in the Shield semi-finals. That said, they've played the U.S. tough already this year but it should be a win for the Eagles.
Canada (10:36 p.m. et/7:36 p.m. pt, Friday): This is going to be the pivotal match in the pool. Canada have struggled this year and haven't made it to the Cup round yet but they did win the Bowl in Sydney hinting that things are turning around. Head coach Liam Middleton has also finally been able to bring back the core of his team that did so well in year's past. Plus, this is a rivalry match so anything can happen. On paper the U.S. should win but little has gone to script in this rivalry.
South Africa (5:35 p.m. et/2:35 p.m. pt, Saturday): With Bryan Habana on the roster all eyes are going to be on an Isle or Perry vs. Habana match-up. Let's hope we see it happen. The Blitzbokke are showing no signs of slow down this year as they push for Rio. For the Eagles, if they want to think to move up a level in the pecking order of world 7s they need to beat South Africa.
Keys to the Tournament
Consistency: If there has been something missing from the Eagles recently it's been consistency. All you have to do is look at the Kenya match from the last round to see how quickly things can change. The Eagles can score in bursts but they need to have a solid 14 minutes and a solid day.
Use the Pitch: The field at Sam Boyd Stadium is wider this year and with astroturf is faster. One of the things that has hurt the Eagles in the past in Vegas is that they can't always find their speedsters in space. With a wider pitch and with Baker and Isles becoming more mature in their game and finding openings they didn't find in the past that should be mitigated this year. The U.S. gameplan is simple. Either find Isles or Baker or use them to create space for others.
Kicking: Conversions have let the Eagles down at times in recent tournaments. With close matches expected against Canada and South Africa conversions could be key.
Feed off the Crowd: It's their home tournament and the fans are going to be behind them at every turn. That can either be a distraction or it can feed players to do just a little bit more.
Breakdown: The U.S. have missed Andrew Durutalo this year. He was a big reason for the team's success last year. Some players have stepped up this year but everyone on the roster has to be dominant in this area.
The Takeaway
After some solid but unspectacular tournaments this year the U.S. needs a breakout tournament. This is about the time of year they usually turn it on and we expect them to do that again. Vegas is a special place for many of these players and they want to perform well. Plus, they sense the urgency of breaking into the top echelon of teams with only months to go to Rio. Again, the expectations are there and we think that this week they fulfill most of them.