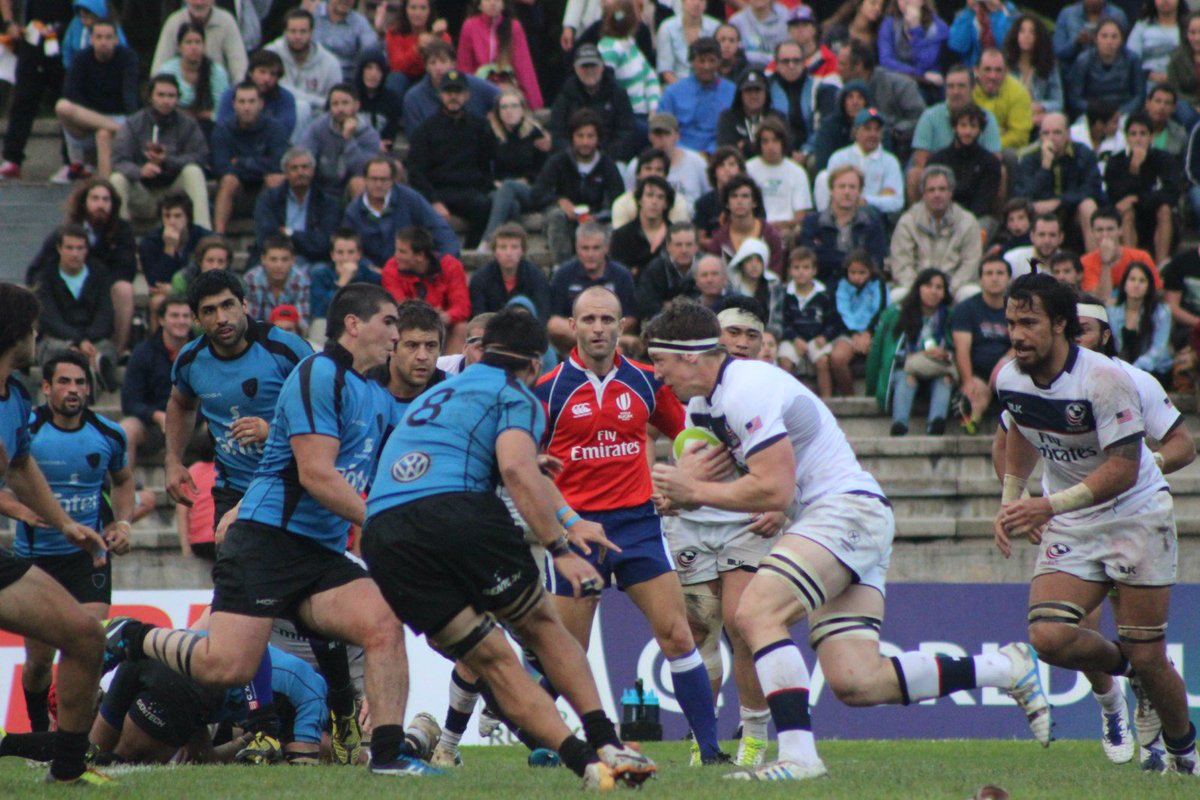 The U.S. lost to Uruguay yesterday and our tendency when handing out grades would be to give low marks. After all, they should have beaten Uruguay, especially having some of their European professionals on the team. However, even with the loss there were positives in the loss. Put it all together and you have middle of the road marks.
David Tameilau, 56 minutes (6.5):
We'll start with Tameilau once again. Of all the players that have made their debut at the ARC Tameilau seems like they find. He needs to work on fitness but he is tenacious, makes good decisions, and has the athleticism to be a find for the Eagles for years to come.
Todd Clever, (6):
Strong match from Clever once again. He did his best to keep the Eagles in it both offensively and defensively. Team attitude also seemed better this week which starts with the captain.
Aladdin Schirmer, (6):
The Central Washington product still has some seasoning to do but he's got a good future. Getting time in PRO Rugby is going to help but he's already got the rugby brain to be successful. Both of his tries in the tournament came from running good support.
Take the jump to read more.
Ben Landry, (5.5):
Landry is going to get a lot of flak for his two yellow cards that probably cost the U.S. the match. However, the first card was coming to the defense of his teammate. Was it too aggressive? Probably. Still, you have to like what he's going to do for his teammates. He's also still young.
Brodie Orth, (4.5):
A better game from Orth than he had against Brazil. The question for Orth going into the summer is can he stay as effective against higher ranked teams.
Titi Lamositele, (5):
Maybe it was the long travel but Lamositele seemed a little sluggish. He did help the scrum but not enough to prevent it from being a liability. Had he been given more time with the team he might have been more effective.
Mike Sosene-Feagai, 22 minutes (4):
Sosene-Feagai can get around the pitch well but he needs to improve in the scrum. That said, with the hooker position wide open he stands a good chance of making the summer squad.
Eric Fry, 62 minutes (6):
We thought that Fry was one of the better players for the Eagles. He was beaten in the scrum a few times but Uruguay hasn't always been known for their legal scrumming. That's five matches for Fry when he could be with Newcastle. Yes, he got game time but did it come at the cost of his club career?
Mike Te'o, (6):
Te'o is growing in the scrumhalf role but there are still a lot of questions if that is where his international future lies. By playing out of position and doing decently well he certainly didn't lose points with the coaching staff.
James Bird, 65 minutes (5):
After a couple of good matches to start the ARC Bird has slid back a little. It's still not enough to consider him behind JP Eloff for the spot behind AJ MacGinty but it puts the competition a lot closer.
Tim Stanfill, (4.5):
Stanfill didn't see a lot of the ball yesterday. He had to do some last ditch defending but it wasn't anything to make him stand out.
Chad London, (6):
For us, London had an excellent ARC. He's settling into test rugby and will provide good depth going forward.
Lorenzo Thomas, (5):
As we've stated many times the ARC is about development and in that regard it had to be a big learning experience for Thomas. He did many things well against Uruguay but he also made mistakes, including getting taken into touch at the end of the match.
Deion Mikesell, (5):
It's hard to argue against a try on debut. Like Stanfill he wasn't involved much.
JP Eloff, (4):
Eloff was largely left out of the match having played at fullback. His kicking was decent but he needs to be involved more to be effective.
Bench
Joe Taufete'e, 58 minutes (5.5):
Taufete'e is another player we though benefitted from the tournament overall even if there were bumps in the road.
Nate Brakeley, 24 minutes (5):
After being called into the team late Brakeley did well to come in and contribute.
Ollie Kilifi, 18 minutes (5):
Kilifi is underrated but he still has work to go. He would be a player that would really benefit from PRO Rugby.
Niku Kruger, 15 minutes (5):
A decent performance from Kruger. His kicks were off which hurt.