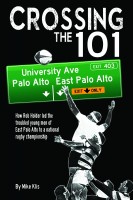 Rob Holder has been active in growing the game of rugby in America for decades. Although some may not him as the father of Eagles 7s player Will, Holder has been an experienced coach at the youth and college level. Now there is a book out about his experiences, in particular his experience teaching rugby in East Palo Alto. We sat down with Rob to find out more on the book (
available here
).
TIAR:
How did the book come about?
Rob Holder:
The author is an old friend (Mike Klis) and during one of his visits to the Bay Area, we started talking about all the things I was experiencing and we decided to put pen to paper.
TIAR:
Would you categorize this as a rugby book or a memoir?
RH:
I'm not sure it's either. It's an inspirational story of a team who overcame adversity and achieved success and the journey a coach took to find a team and a calling in life. I wouldn't call it a memoir because it only really covers a 6 year period of time.
Take the jump to read more.
TIAR:
What were/are some of the challenges facing the rugby community in East Palo Alto?
RH:
Most of the problems we faced were getting the guys to believe that they could achieve success. They are so used to failing that it was difficult to get the guys to believe in themselves and each other and not worry about the outcome. We had the normal issues of a disadvantaged community--poor or no fields, no equipment, no uniforms, unreliable teammates (usually due to drugs, alcohol or incarceration), poor diet and nutrition, etc; but the biggest challenge was getting the guys to believe. Most of them had never really experienced success in their minds.
TIAR:
There are now a number of players of Pacific Islander heritage on PRO Rugby rosters. What do you think makes them solid players?
RH:
First of all, they are hungry, they want to make it and they are willing to sacrifice. Many of these guys come from nothing and they want a chance to succeed. Additionally, many of the guys come from families who have some rugby history and they grow up playing touch and following the sport. Finally, their natural size and power lends itself well to the way they like to play the game-hard and direct.
TIAR:
Part of your book focuses on the journey of Folau Niua. For those that aren't aware, can you provide some background?
RH:
Folau was a tough guy. He had great hands and a fanatic left boot, but he had difficulty staying out of trouble early on. Serious trouble. Once he got his life together off the field, he suffered a few injury setbacks but once he healed up and committed himself it was clear that the sky was the limit for him. He is an extremely hard worker, great skills and great vision for the game. He is a great teammate and a great friend. I am so happy for Folau.
TIAR:
Additionally it focuses on your son Will. What's going through your head when you see the two of them together out on the pitch?
RH:
Probably one of my favorite memories of this 7s season so far is Folau lifting Will to take 4 or 5 kick offs in a row while facing Fiji in one of the early series events. Fiji kept kicking to them and the EPA boys kept dominating the restart. Fiji finally had to kick somewhere else. I love seeing them playing together, it's like having two sons out there!