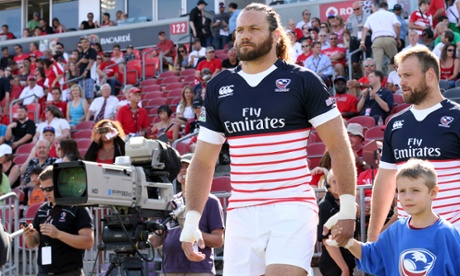 Maybe we all should have seen last week's loss to Brazil coming. After all, Brazil had played Canada tough the week before, playing in the ARC has upped their level of play, and they have some outstanding players on their team. Further, you had a U.S. team that was fielding a lot of new caps, some of whom could be considered long-shots even at this point to make the Eagles 2019 World Cup squad.
Even with a week taking some of the sting away from the loss it's a result that shouldn't have happened. Some of the players on the team had lots of experience; others have been outstanding at the club level. There were also a lot of opportunities to score and to prevent Brazil from doing the same. Arguably Brazil shouldn't have scored a single try if the U.S. had been sharp defensively. Even playing poorly the U.S. should have won that match by a couple of tries. At this point there is nothing the team can do about it beside move on. That's exactly what they are trying to do this week against Uruguay.
Take the jump to read more.
The match against Uruguay is definitely not a do or die match. Yes, the Eagles still have a chance to win the ARC but it's very unlikely. They would not only have to take the maximum points away from Uruguay but they would have to get some help elsewhere. The point of the ARC is to develop players. Last week was a learning opportunity and so is this week. If the team can rebound against Uruguay with a good showing it puts them back on a positive track, something they need if they want to carry momentum over into the summer.
The match is at 3:00 p.m. et/12:00 p.m. pt and can be see on ESPN3.
The Team
Eagles head coach John Mitchell isn't messing around. After last week's lackluster performance he's recalled Todd Clever from Newcastle and has also brought in Titi Lamositele. Eric Fry is now starting as is the experienced Chad London in the back. There are some newcomers to the team, including Deion Mikesell on the wing. Lorenzo Thomas is also gaining his second cap as well. Even with the new players this is a solid line-up with players that can pick up the team when needed.
Forwards:
Eric Fry, Mike Sosene-Feagai, Titi Lamositele, Brodie Orth, Ben Landry, Aladdin Schirmer, Todd Clever (C), David Tameilau
Backs:
Mike Te'o, James Bird, Tim Stanfill, Chad London, Lorenzo Thomas, Deion Mikesell, JP Eloff
Bench:
Joesph Taufete'e, Ollie Kilifi, Demecus Beach, Nate Brakeley, Hanco Germishuys, Niku Kruger, Ryan Matyas, Jake Anderson
The Opponents
Uruguay have changed out nine players from last week. Like the U.S., Uruguay are testing their depth. So far it's been so-so. Uruguay are 2-2 in the competition with wins over Chile and Brazil but losses to Canada and Argentina. The loss to Argentina was close as was the win over Chile. The Teros aren't going to want to finish the tournament with a losing record so expect them to come out firing. They have also recalled some experienced players.
Forwards:
Mateo Sanguinetti, Carlos Arboleya, Mario Sagario, Gonzalo Soto, Diego Magno, Juan Gaminara, Juan Diego Ormaechea, Alejandro Nieto
Backs:
Agustin Ormaechea, Menual Blengio, Gaston Mieres, Andres Vilaseca, Pedro Deal, Leandro Leivas, Rodrigo Silva
Bench:
German Kessler, Facundo Gattas, Juan Echeverria, Mathias Palomeque, Mathias Beeer, Alberto Roman, Guillermo Lijtenstein, Federico Favaro
Keys to the Match
Scrum:
Even though they had some of the same players that performed well in the scrum against Chile, Canada, and Argentina, they were pushed back against Brazil. Uruguay won't have their top line-up out there, like the Eagles, but they will still be a very tough challenge. The U.S. must rebound from last week with a good performance.
Decision-making/Game Management:
One of the glaring problems against Brazil was the poor decision-making. Not only during the run over play but on set pieces and in match-changing scenarios. This area must see growth if this match is to be considered a success.
Kicking:
Once again it's kicking and scrums. In this instance it's about not getting into your opponents game of trying to kick for territory all the time. How many times did the U.S. kick the ball away in the final few minutes against Brazil. Uruguay almost certainly saw that and are going to try and pull the U.S. into that type of match.
Enjoy the Match:
We're convinced that the best rugby is played when you are enjoying the game. It will be easy for the Eagles to be stressed after last weekend. They need to take a step back and relax. Playing rugby is fun, especially on tour. Before they should go out against Uruguay they should take a deep breath and mentally reset
The Takeaway
For morale sake this is a match the U.S. need to win. They've called up the reserves in order to make it happen. Clever and Lamositele are difference makers and we expect players that had poor weeks last week to turn it up this week. We think that this U.S. team will be closer to the team from the first three weeks of the ARC than last week.