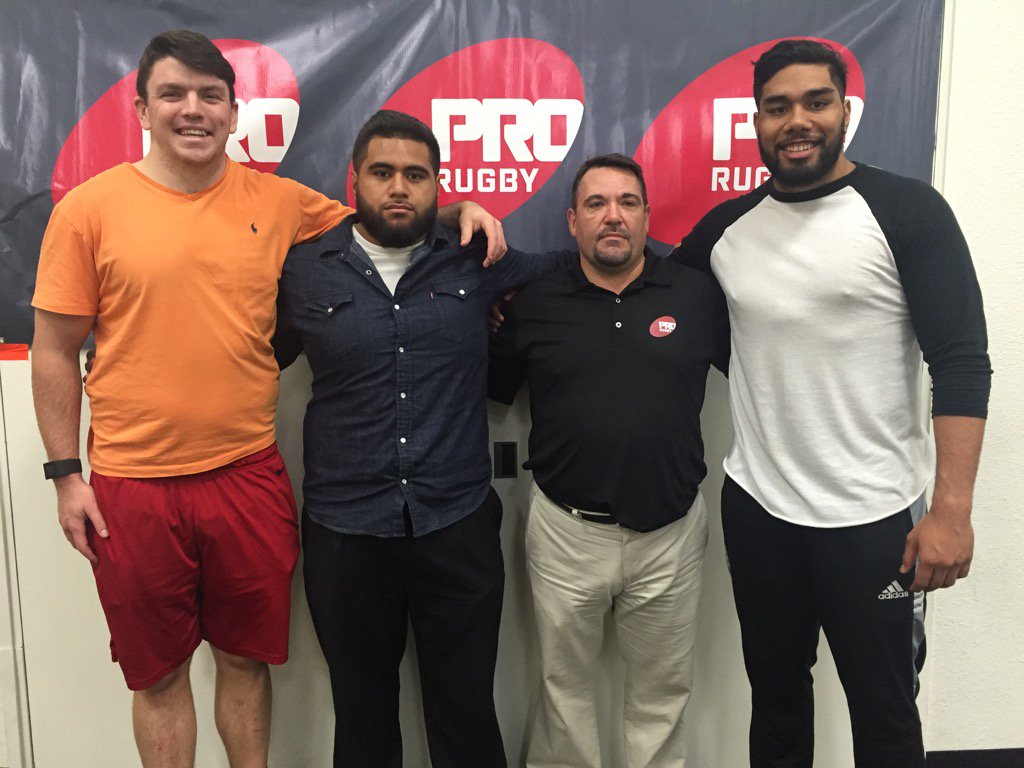 By Derek Sagehorn
Last week Pro Rugby released its rosters and teams began training for the first time. This Is American Rugby spoke to San Francisco coach Paul Keeler about the first week of training.
This Is American Rugby:
What have the first couples days of practice looked like for San Francisco?
Paul Keeler:
The first day was a lot of onboarding and paperwork. But physically, we're going to focus on fitness for the first two weeks. We need to establish a baseline of flexibility and core-strength that players can build off of in the rest of the preseason.
TIAR:
How fit are the players right now?
Take the jump to read more.
PK:
They are in good shape for club rugby. But we are going to have to re-shape some of their bodies, especially the guys in the front row. A few of them will need to change their body composition. Fortunately, we are able to oversee and inform their nutritional habits by dining together.
TIAR:
Where are you guys training right now?
PK:
We're starting out at Life West. They have a cafeteria, weight room, and a training room for our players to use. We're using a nearby high school field for some of our handling sessions, which may change, but right now it's important to keep as much of our team activities as possible in one place. There is a lot to do right now and we don't want to spend a lot of time in transit between facilities.
TIAR:
How are the players adjusting to life as professionals?
PK:
I don't think the novelty has worn off yet. They are excited. Even with two-a-days. But we are trying manage their workload. We'll have regeneration days on Sundays to ensure that players are taking care of their bodies. We're also holding off on heavy work for now, like scrums. We want to rest their hamstrings and spines for the long season ahead.
TIAR:
What is your focus with your handling sections?
PK:
We want to be able to move the ball around, quickly. Especially on turnovers, where we can create try-scoring opportunities. So right now, we're focused on our shapes within our playing patterns. Player are being asked to create playing shapes based on what the defense looks like.
TIAR:
Are there any players that you are excited to see play?
PK:
Patrick Latu. I've coached him before at San Francisco Golden Gate, but he's been overlooked by some people. He's a good player that will really benefit from this professional environment. Also, David Tameilau: he's a player who did really well on the Americas Rugby Championship tour with the Eagles. He actually won a national championship with us at SFGG in 2009 as a teenager, so he has a lot more experience than people give him credit for. I think a lot of our Polynesians players are undervalued. So we'll surprise some people. In addition, we have some guys like Michael Haley. He's someone that we were aware of at St. Mary's but really earned his spot by demonstrating great fitness and skills at the combine.
TIAR:
What about contract players? How will they fit into the squad?
PK:
We'll have around eight or nine contract players—probably the most out of any team. A lot of it has to do with the cost of living and jobs here. Some guys can't afford to give up their full-time jobs. Our strength and conditioning coach has worked with these guys to create a conditioning program that works with their schedules. So they can put that work in before work or whenever, and still be at evening trainings. This group includes Eagles Jake Anderson and Alec Gletzer so they are familiar with putting in the extra work.
TIAR:
Will San Francisco be getting any more international signings? Like a fullback from New Zealand?
PK:
I certainly hope so. It's always a possibility.
TIAR:
How has community outreach been? Has the Parks and Recreation department been supportive of the league? San Francisco has a reputation for citizens
opposing
all kinds of things.
PK:
The City has been great. They have really helped us get all the paper work done. We're working on our event day operations right now. But we are planning on selling beer and working with park rangers to make sure fans are well-behaved. In addition, we're planning on having events like a rugby business dinner and a meet and greet with the mayor, police chief, fire chief etc. We're really excited about that first home game on April 24th.