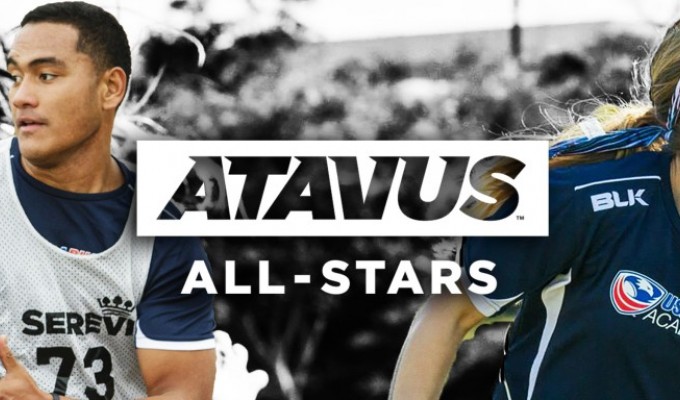 ATAVUS are doing something a little different at this year's LVI. After winning the Men's Elite tournament the last few years the team is taking a step back from trying to win it all and is instead focusing on integrating youth players that have excelled in their camps and programs. The idea is that players are who working hard to improve themselves at the youth level should have the opportunity to gain more experience playing with veterans players in an intense environment. To that end the team is fielding sides in the Men's Aces, Women's Elite, and Boy's and Girl's Elite divisions.
Make no mistake, the Men's Aces team is full of talent. The likes of Kellen Gordon, Mike Palefua, William rasileka, Shane Moore, and Nick Evans, players that have all been a part of the All-Stars success in the past are back. However, joining them are players like Gio Bonilla from the Austin Huns, Spence Purnell from Florida State, Alex MacDonald from Citadel, and Dylan Turner from Ole Miss. All of those players have participated in and excelled at resident camps and training camps. By excelling in that atmosphere the players have now put themselves to gain even more exposure and move up the pathway.
Take the jump to read more.
The Women's Elite roster similarly has a taken a different track. Playing in the Elite division the team is stocked with former and potential Eagles players. Sylvia Braaten, Kathryn Johnson, Deven Owsiany, Nathalie Marchino, Jane Paar, Amy Naber, Hannah Lopez, and Irene Gardner have all played on the Series in the past, some this year. In essence this is the U.S. B team of players hoping to make it ont o the team for Atlanta. Kelsi Stockert is certainly one of those poised to have a good run. Even with the veteran presence the team is still taking young Lilly Durbin from Fallbrook.
The Boy's and Girl's Elite is very much all about development through the ATAVUS system. All of the players have participated in some camp and are some of the best players available. It's probably a good bet that both teams will do well on the weekend.
ATAVUS will also be hosting a coaching conference this week.
Details can be found here
.
Men's Aces:
Gio Bonila (Austin Huns), Josh Bower (CWU Alum), Cecil Garber (Seattle), Alex MadDonald (Citadel), Nick Evans (Seattle), Spence Purnell (Florida State), Dylan Turner (Ole Miss), Shane Moore (Seattle), Kellen Gordon (Seattle), Mike Palefau (ATAVUS Academy), Justin Edralin (ATAVUS Academy), William Rasileka (Seattle)
Women's Elite:
Sylvia Braaten (Twin City Amazons), Kelsi Stockert (Seattle), Kathryn Johnson (Youngbloodz), Deven Owsiany (San Diego Surfers), Chelsey Sveinsson (Seattle), Lilly Durbin (Fallbrook), Nathanie Marchino (Berkeley All Blues), Jane Paar (Navy Alumni), Amy Naber (Life West), Hannah Lopez (San Diego Surfers), Cameo Motely (Life West), Irene Gardner (Life West)
Boy's Elite:
Adrian Escobedo (Rock Rugby), Alex MacDonald (Pleasanton Cavaliers), Brenden Curle (Union Titans), Calvin Gentry (Power Center Academy), Conor Pederson (Eastside Lions), Derek Allen (St. Thomas), Dylan James (Santa Monica), James Downey (San Diego Mustangs), Santiago Mascolo (Rye Rugby), Seldon Funaki (Aurora Saracens), Williams Dodds (Eastside Lions), William Fifita (Aurora Saracens)
Girl's Elite:
Alaina Valenciano (Rainier Highlanders), Alyssa Henneberg (Fallbrook), Baleigh Gable (Grandville), Emily Prentice (Kent Crusaders), Hannah Savin (Fallbrook), Kayla Canett (Fallbrook), Lindsey Baron (Brentwood), Mata Hingano (Danville Oaks), Michel Navarro (Fallbrook), Tatum Johnson (North Suburban), Zoe Duffield (Essex County)