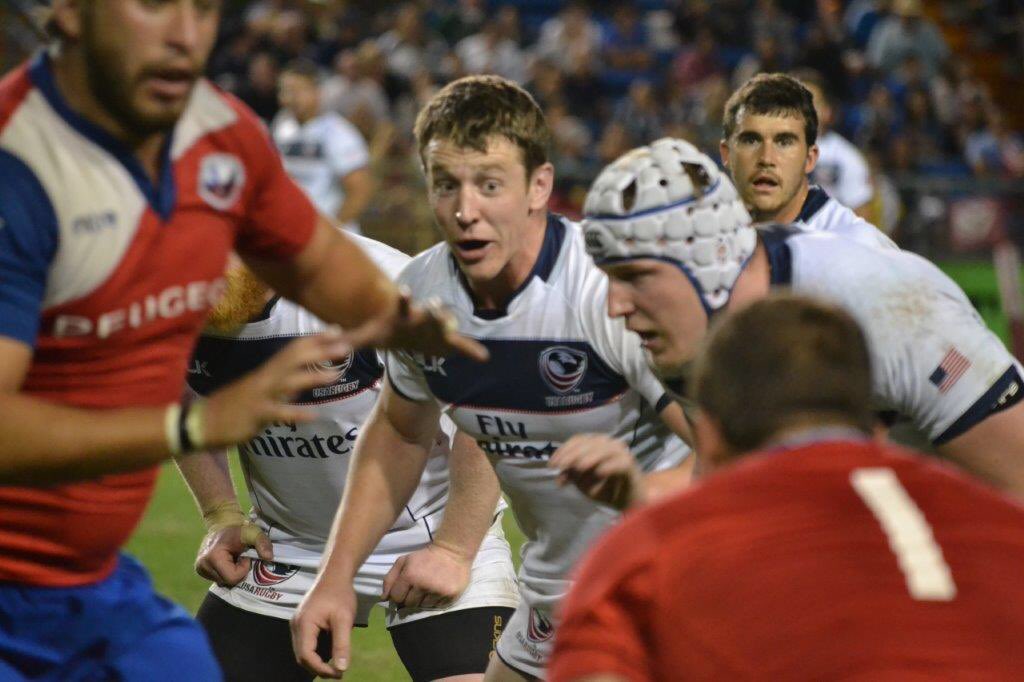 If the U.S. had registered a 64-0 win over a country like Canada or Samoa it would be a lot easier to give out our grades as everyone would have been give a nine or ten. However, since the Eagles should have and did have a good time against Chile it's a big harder to issue grades. That said, most players did very well.
Tom Bliss (7):
A first cap for Bliss and an overall good impression before coming off with an injury. Bliss definitely enjoys the quick ball and with more time under his belt he's going to be a good one.
JP Eloff (6):
Eloff had a back and forth game. He led the team well on offense and defensively had a few nice tackles. If there was a ding it was his kicking game that was off early.
Nic Edwards, 37 minutes (7):
A bad leg injury that required hospitalization ruined what was a good night for Edwards. Not only did he score a try but he was active in all phases of the match.
Chad London (7):
A overall good match from London that was justly capped off with a try.
Take the jump to read more.
Lorenzo Thomas (8):
Thomas goes into the books as the youngest try scorer in Eagles history. Even though he's 19 Thomas didn't play like it and was outstanding.
Luke Hume (8):
Hume was fantastic in the match and brought a lot of energy. He tends to try and chip ahead too often but it did work in this match when he connected with London.
Mike Te'o, 78 minutes (6.5):
Te'o looked much more comfortable at fullback. That's not that he can't or shouldn't play other positions it's just that you can tell he's played fullback a lot before. Consistency is what he needs.
Eric Fry (7.5):
Fry is a leader on this team, pure and simple. He has far outgrown playing even against a team like Chile and is ready for a big 2016.
Joe Taufete'e, 68 minutes (7):
The line out went well because of Taufete'e and he showed great heads up play on his try. The hooker positions is wide open for the Eagles but Taufete'e is making his best push to make it his own.
Chris Baumann, 27 minutes (7):
Baumann had to come off early with an injury. For the Eagles they have to hope it's not serious as Baumann was solid against Chile, especially in the scrum. The ARC has been great for him because it raises his confidence level.
Ben Landry (7):
He's still young but Landry has shown he knows the game. He had a couple of big steals and defensively he puts himself in the right positions.
Brodie Orth, 62 minutes (7):
The U.S. is known for locks that are as steady as they come but maybe not that flashy. Orth fits that mold perfectly. Make he should earn the nickname John Van Der Giessen II.
Nate Brakeley (7):
Brakeley ended up doing a lot of the dirty work in the match and was good in the line out.
Todd Clever (7):
Clever caps off his Eagles comeback with another match with memorable moments. He looks rejuvenated.
David Tameilau, 68 minutes (7):
Tameilau maybe didn't have as big of an impact on the match as he did against Argentina or Canada but it was a solid match once again.
Bench
Ollie Kilifi, 53 minutes (6.5):
After coming on for the injured Baumann, Kilifi did well. His play to take out the Chilean player in the air and earn a yellow card wasn't that good and takes down his overall grade.
Jake Anderson, 43 minutes (7):
Anderson is so solid in many aspects of his game. You see it in his kicking and the way he ran support for his try. But that's what you expect from a Cal guy. Of all the players on the team, Anderson has the feel about him that as he becomes more comfortable in an Eagles shirt he's going to take off.
Niku Kruger, 40 minutes (7):
Nothing too fancy from Kruger just another solid match.
Alec Gletzer, 18 minutes (7):
Not a ton of time for Gletzer to make an impact once again. Look for him to get more action in South America with Clever out of the line-up.
Mike Sosene-Feagai, 12 minutes (7):
He had one line out throw that was off but overall made an impact with his running. Still needs more time and a stint in PRO Rugby to get used to his teammates.
Pat Blair, 12 minutes (7):
A well deserved first cap for Blair but not a lot of time to show what he could do. He did get cleaned out, drawing a penalty that eventually led to a try.
Ryan Matyas, 2 minutes (NA):
Not enough time for a grade.
Demecus Beach, 5 minutes (NA):
Not enough time for a grade.