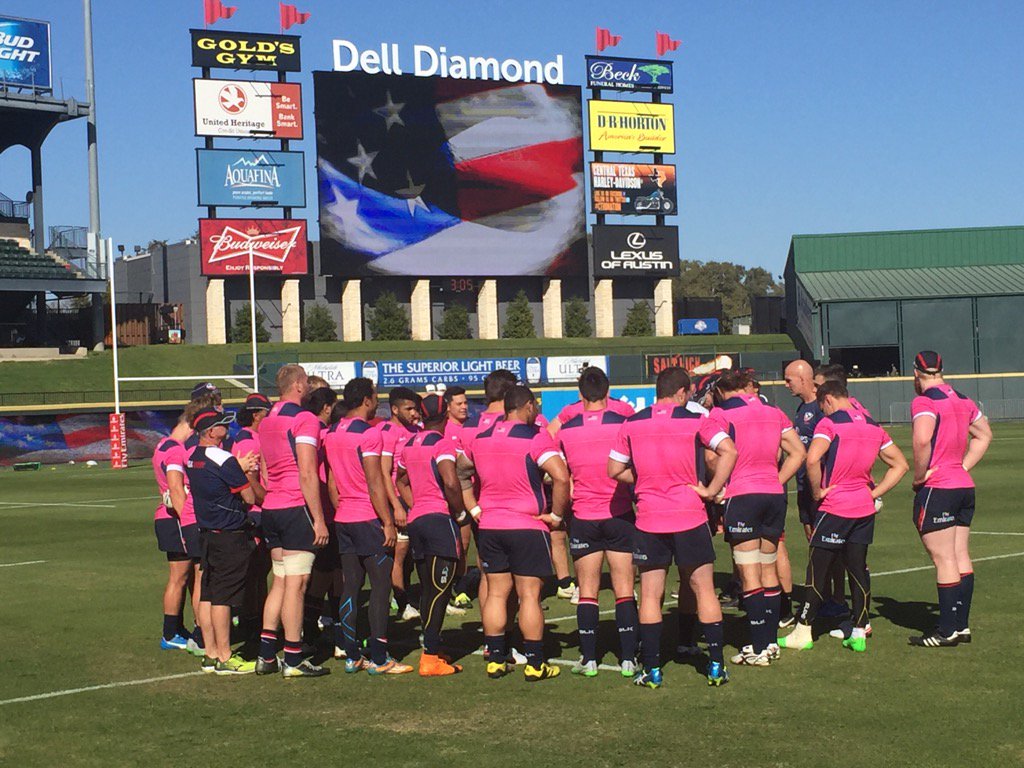 For the 55th time the U.S. will test themselves against Canada. However, this time it's in the Americas Rugby Championship in what could be a pivotal match for who finishes first at the end of the competition. Also different from their typical matches is that each team will be running out more of a developmental team, especially Canada. Although overseas pros can technically be called in, only the Eagles have multiple such players in their team leaving it up to the domestic players to shine.
The similarities between the teams don't end their. Both endured coaching changes after winless World Cups and each team has only had so many weeks under the new regime. Despite that, both teams showed well last week but have a lot of kinks to work out. With many domestic players on the team this tournament is about building the right structures and playing the right way for each team. A rivalry match always brings out the best in both teams but with this new dynamic it's about seeing how players grow as much as it's about getting a win over a rival.
Take the jump to read more.
The Team
Head coach has made a number of changes from the team that drew with Argentina. Eric Fry and Chris Baumann keep their places on the front row but they are joined by Mike Sosene-Feagai. The New Zealand based player came off the bench last week and did well. He's still young so there is hope he can help the Eagles over the long-term. Ben Landry gets his first chance with the Eagles and will pair with Brodie Orth in the lock. Landry will have his hands full trying to replicate the work of Greg Peterson last week while Orth was impressive. Nate Brakeley takes Cam Dolan's play in the back-row alongside Todd Clever and David Tameilau.
In the backs Mike Te'o gets his chance to impress at scrumhalf. He did very well in the job last weekend as did James Bird at fly-half. Bird is looking very much like MacGinty's back-up for the next few years. Kingsley McGowan on the wing and Lemoto Filikitonga and Chad London in the centers retain their spots. Luke Hume, who is back in an Eagles shirt after a long injury stint takes Taku Ngwenya's spot on the wing while Jake Anderson comes in for Blaine Scully.
Forwards: Eric Fry, Mike Sosene-Feagai, Chris Baumann, Brodie Orth, Ben Landry, Nate Brakeley, Todd Clever, David Tameilau
Backs: Mike Te'o, James Bird, Kingsley McGowan, Lemoto Filikitonga, Chad London, Luke Hume, Jake Anderson
Bench:
Joe Taufete'e, Ollie Kilifi, James Hilterbrand, Pat Blair, Alec Gletzer, Niku Kruger, JP Eloff, Mike Garrity
The Opponents
As mentioned, Canada are bringing a relatively young and inexperienced squad led by interim head coach Francois Ratier. Most of the experience lies in the front row where Hubert Buydens, Ray Barkwill, and Jake Ilnicki could be a big handful for the Eagles front row. All three play at the same club and have been with the national team for awhile. Other experienced players include Gordon McRorie at scrumhalf, Nick Blevins in the centers, and Phil Mackenzie on the wing. Blevins in particular has had a good time against the U.S., hurting them badly last summer. Wing Dan Moor was also very impressive last week against Uruguay.
Forwards:
Hubert Buydens, Ray Barkwill, Jake Ilnicki, Paul Cuilini, Callum Morrison, Lucas Rumball, Alistair Clark, Clay Panga
Backs:
Gordon McRorie, Gradyn Bowd, Dan Moor, Nick Blevins, Mozac Samson, Phil Mackenzie, Pat Parfrey
Bench:
Eric Howard, Djustice Sears-Duru, Rob Brouwer, Kyle Baillie, Liam Chisholm, Michael Hamson, Andrew Ferguson, Duncan Maguire
The Head to Head
The two teams have played 54 times while Canada holding a large edge at 38 wins to 15 for the Eagles with one draw. That said, the U.S. has won the last three meetings between the countries and has a mental edge over their opponents. Before that Canada won over 10 straight matches, including World Cup qualifying in 2013.
The Keys to the Match
Scrum:
This was a major strength for the Eagles last week. A lot of credit goes to the props but the whole forward pack deserves praise. Canada haven't had the best scrum over the last few years but the U.S. is missing Titi Lamositele while Canada comes with experience. If the U.S. can once again hold firm or win penalties like they did last year then they should be good.
Kicking:
Scrum and kicking, the two things we talk about every time because they are so important. The U.S. was kept in the game last week by their kicking from tee as well as from hand (box kicks were strong) but they also missed a chance to win it when Bird's kick missed at the end. Canada will probably commit a lot of penalties so Bird needs to be on.
Stay Patient:
If there was a fault of the Eagles last week it's that they might have played too much rugby at times going for a less than 50-50 pass rather than playing it safe. That can lead to exciting rugby but it can also come back to haunt them at times. If they take care of the ball they should beat Canada, if they don't then they are going to give Canada plenty of opportunities.
Adjust to Changes:
Mitchell has made a number of changes and the team is going to have to find a way to get cohesion early. They were able to do that last week but they also had a core of players that have played together for years now. This new group, especially a player like Te'o, needs to find his rhythm early and get in-sync with his teammates.
The Takeaway
This is a match the Eagles should win. With players like Fry, Clever, and Hume on the roster they should have the players to out do Canada. They have speed and they have players with solid rugby brains. However, all of that is easier said than done. If anything, we think that the ARC is going to turn out to be an unpredictable tournament. This could be one of the most unpredictable matches. That said, if the U.S. plays like last week they should come out winners.