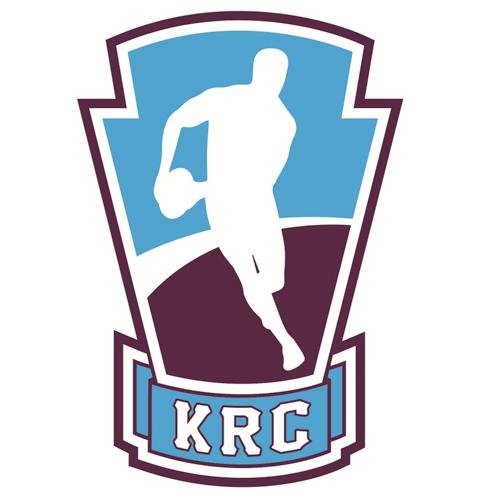 By Brendan Triplett
@brendanUSArugby
The action for the conference has not been solely held by the West. With the schools of Rutgers (RU), St. Joseph's (SJU), Temple (TU), West Chester (WCU), and Villanova (VU), there is experience and the skills needed to combat anything that the West might bring to the table. So how do they fare this season as practices get into full swing and players move from the gym to the pitch?
Rutgers (5)
– They have arrived and are hitting their stride. After the buildup of the past few years and under the guidance of Coach Omar Rivera, they have built up a program that emphasizes their strengths of rucking and ball handling. Last fall, with the work of a solid team and an excellent point leader and kicker in Keith Wallace (flyhalf) they were able to top several of the opposition. However, Wallace has moved on, so how will the team cope without his work? Not a worry here, Dan Miller (wing) has been putting in some time with the position and has a chip shot that places the ball with a skill that competes with the some of the best in the conference.
Coach Rivera has been building up the rest of the team and raising the bar on how Rutgers rugby has operated. Utilizing a training program he calls "facultative coaching" he focuses on player knowledge through player development. Some educators might recognize this vaguely because the idea is that the players are guided, not just led by the nose, to learn the game. Why do we see such a strong team in Rutgers? These aren't just players that know the game and follow orders. They learn together through trial and practice. We are looking at a team of individual thinkers that can read a play and make calls under pressure. This season, with training well underway and a team of 75-80 players strong, there is an emphasis being placed on their passing game, "Passing and making phases on the run makes the team more dynamic. Let's face it, it takes a lot less effort to run than it does to ruck," says Coach Rivera. This is the type of mindset we are seeing across the conference and it makes sense to notice this type of gameplay being needed to stay competitive.
Take the jump to read more.
With the season starting to go into full swing there will be a XV's schedule in place but the majority of focus will be placed on developing strong 7's players and a team cohesiveness that will bring them together even stronger for competition in the fall. What are the names to look out for? Keep an eye out for AJ Iadisernia (flanker) he is a workhorse and a powerhouse and he will be a lightning rod on the pitch. Also look out for Dan Miller (wing/flyhalf) and his developing golden boot and Nick Nahrwold (flyhalf/wing) on his development with AJ as they prepare for 7's for Rutgers and also for the 7's Aces Division in Atlanta as an all College Champions tourney.
St. Joseph's (3)
– The team is back to work with their noses to the grindstone eager to improve upon last year's performance and come out strong. With the spring season having all but the single goal of improving 7's play, it would not be a far reach to imagine the type of gameplay they expect to bring to their XV's later in the season. St. Joe's has Collegiate Rugby Championship (CRC) fever after a rather successful campaign last year led them to a bowl final against Notre Dame and just short of a win to cap the event. XV's played out in similar fashion as they stormed through pool play and faced the fire of, rising star, JMU's rush to the top of the bracket. They pull from a deep bin of victories with back to back KRC 7's titles and strong wins in the City Six 7's Series. They are a deep team with plenty of experience to pull from and a motivated coaching staff eager to let the boys play and build the techniques that only come from experience on the pitch.
Coach Daniel "Shags" Yarusso can be seen taking up his usual position in the center of the fray, guiding his team and running ball-handling drills and phase plays. He has confidence in his team and sees the likes of Justin Young (Prop), Tyler Kelley (Flanker), Matt Zebrowski (Hooker), Jack Hicklin (Flanker), and a solid group of sophomore and freshmen ruggers eager to make a name for themselves and St. Joe's. Look to see them shine in the Las Vegas 7's Invitational, just as they did last year. Keep them in mind all season as we watch them try to take the top of the conference when it comes to our XV's season this fall and they face off against JMU and other local rivals. Their spring schedule is booking quickly so keep an eye out for dates and times of events coming as soon as just a few weeks away. They are the KRC East team to beat!
Temple (4)
– "Work ethic of the guys, this is our differentiator." Coach John "Spider" Sciatto said, and he can't put it any plainer. The Temple boys put in the man-hours necessary to make a difference on the pitch… and it shows. With a strong finish in last years XV's championship and a less than stellar performance at the Collegiate Rugby Championships, Temple is coming into the season with all pistons firing. After ending last season missing their starting flyhalf they are working on getting strong backups for the team so that they won't fall into that position again. With a team, now 60-65 players strong, they wont have any shortage of players to work with. This is all with work on a group that is organized and developing a level of play that will be tough to compete with. They are looking to make a run at the top, and of course if they can put a little hurtin' on Saint Joe's along the way it will make the journey just a touch more sweet.
Recognizing some the areas for development, we can expect to see a stronger game, on and around the ball, especially when it comes to "quick rucks, and getting the ball out," Coach Sciatto couples their development with one of their greatest strengths and that is, "always play to the next level, whatever that may be for each player." Of course the idea is to develop the team to be stronger, but by developing each player and improving each of them to play a notch higher than the game before or even the practice before, he is creating a team of all-around athletes. Temple doesn't have the largest players on the pitch but that is nothing to consider a weakness. Strong emphasis is being placed on good body position and fundamentals, as well as tackling and maneuvering. It is safe to say that this team will be one of the fastest groups out there. We can expect to see some great things from Peter Mulville (wing), Anthony Sciarro (flyhalf), and Oscar Hernandez (hooker). Temple is a top 4 team with room to grow so we can expect them to be very competitive this season as they develop a young team and get them combat ready.
West Chester (8)
– Don't be fooled by their ranking or how their wins and losses stacked up, West Chester is not a team to be trifled with. This is a team that was able to put points up against every one of their opposition teams, held off Saint Joe's to a very thin margin of a victory, and competed during the regular season to take solid victories in area scrimmages. Along with this we saw that West Chester is a very strong first half team. In many of their games they were able to hold a solid defense and offense during the first half, but endurance and training under pressure faltered during the second half. This will be easily rectified with some physical training during the off-season, which we can only guess has been going on non-stop.
They will be losing one of their major playmakers, Andy Kaye (flyhalf), to graduation but there is still a lot to look forward to with this team through Paul Diorio (flanker), Shane Dortone (prop), and Spencer Rickert (hooker) all of which who have been working on their kicking game and will be fielding some good ball this season. Under the continued guidance of Coach Bjorn "Swede" Haglid, the breakout of their season starts on the 27th with their XV's team taking the pitch against Princeton, at Princeton around 1pm. If you get the chance to check them out I would do so because with the right focus on fundamentals and ball handling we could see this 8th ranked team not only put up numbers against other teams in scrimmages but we could see them take a match or two from division rivals when the fall sees them at full strength.
Villanova (7)
– The boys from NOVA took their lumps during the XV's tournament last fall but that isn't to say that they were without wins. Throughout the season they had convincing wins against Columbia and, conference rivals, West Chester and they entered the fall season with good momentum. Even in regards to their 7's side they were competitive and held strong competition against the best of the D1-AA teams. In what was considered one of the best games of the tournament they faced off against West Chester and their rivalry continued as they trounced the golden rams 41-12. This was largely in part from the handy tries and solid boot of Sean "Mystic" Sawyer (Flyhalf) and Logan Khelil (Lock). Their work against Rutgers was kept low scoring which was a tribute to their hard work on the training grounds.
Under new team President Christopher Brophy (Wing/Center) and with an injection of new training equipment from the University we are in for a treat to see how much this team improves during 7's season and into XV's this fall. They have lost some strength with graduating classman but a young team and plenty of recruiting has kept their numbers growing. Look for big things from Matt Hughes (Prop/Number 8), Jon Glenn (Wing), and Tim Plant (Fullback) to name just a few of the growing squad.
Much like their counterparts in the West we are seeing a large movement of the speed and ball handling utilized in a successful 7's game being transitioned into XV's. Experience and toughness on the pitch sets the East in an interesting position as they look at, still new, programs to the KRC such as JMU and LHU. It is important for referees and other line judges to keep as up to date with new laws as possible. As the game grows faster the laws change to reflect the evolving sport and a bad call can change an entire season. Ultimately, there is room to grow on both sides and I don't think that the season will disappoint anyone able to make it out to these schools for scrimmages or even 7's tourneys that are scattered throughout the spring and summer. Stick with the news to hear how your teams have done throughout the season and look for updates often. Ruck on!