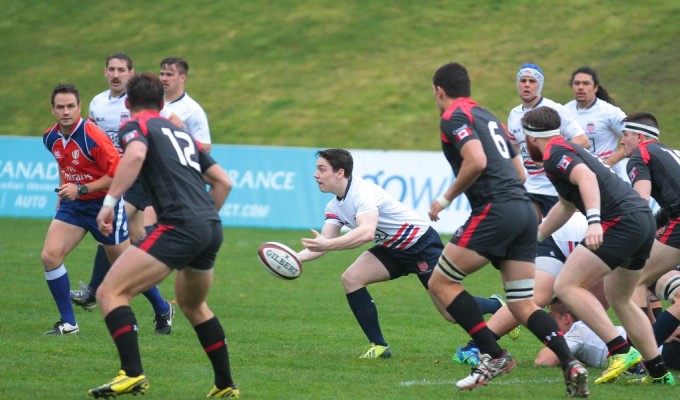 Four members of last year's Junior All-Americans return as the team gets set to take on Canada in their Junior World Rugby Trophy qualifying match next weekend in Austin, Texas. Arguably the three biggest names to make their return include Hanco Germishuys, who is also in the Eagles ARC squad, Louis Mulholland, who made the Eagles extended team for the World Cup, and Ben Cima.
Having already been to a couple of camps head coach JD Stephenson and his team will hit the ground running starting on Saturday in preparation for the match against Canada. This year's qualifier is a one off match just after the U.S. vs. Canada ARC match. Last year the U.S. lost both legs to Canada and missed out on world age-grade play for the first time.
Take the jump to read more.
"Familiarity of players is a bonus when designing processes and roles for individuals in the side," Stephenson said in a U.S.A. Rugby press release talking about the number of players that come from the same school. "However, there is also the added pressure to the Lindenwood players of expectations and standards that they need to hold themselves to given they are accountable to them on a daily basis. Nevertheless, we have closely watched and have been in contact with all players in our squad, which allows for familiarity of all players."
"As a coaching staff we have leveraged all forms of technology to ensure that a clear message of roles and responsibilities have been conveyed to the players," Stephenson said. "There has been a considerable amount of prep work done between camps to ensure playbooks, terminology, processes, and outcomes are aligned between player and coaching staff. We are fortunate to have a very respectful and diligent playing group that is willing to go the extra mile to be successful."
Prop:
Connor Cudeback (Cal Poly), Nick Kwasniewski (Grand Canyon), Mason Pederson (Arizona), Roman Salanoa (Kahuku High School), Chance Wenglewski (Lindenwood)
Hooker:
Steven Branham (Arizona), Zacharly Haley (Metropolis)
Lock:
Sean Coleman (Arizona), Bronson Teles (Katy Barbarians), Joshua Warnock (Peninsula Green)
Back-row:
Malon Al-Jiboori (Lindenwood), Brennan Falcon (LSU), Hanco Germishuys (Glendale Raptors), Beuki Taumoefolau (Las Vegas Irish)
Scrumhalf:
Ruben de Haas (Little Rock), Louis Mulholland (Bath University)
Fly-half:
Ben Cima (Rocky Gorge), Duncan van Schalkwyk (Life)
Center:
William Fifita (Aurora Saracens), Brian Hannon (Arizona), Devin Lim (UCLA), Lorenzo Thomas (Lindenwood)
Wing/Fullback:
Rodney Giles (Henley Hawks), Deion Mikesell (Lindenwood), Tyler Sousley (Arizona), Mitchell Wilson (Life)