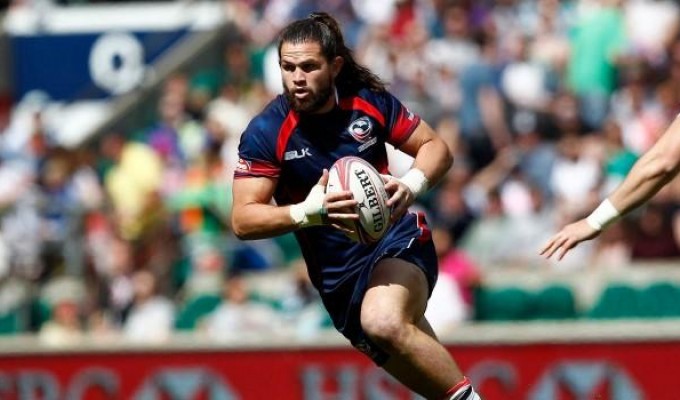 Head coach Mike Friday has named his latest camp roster as his team gets ready for the Vegas 7s and Vancouver 7s in less than a month. Not only is he getting his team prepared for the World Series but also for the elite tournaments coinciding with each tournament. The Falcons will play in both tournaments increasing what has already been a strong season total.
Injuried to Brett Thompson, Kevin Swiryn, and Nic Edwards have limited some availability but the rest of the core group remains once again and barring something unforeseen it's likely the final team, when it's chosen, will feature the likes of Perry Baker, Danny Barrett, Madison Hughes, Carlin Isles, Folau Niua, Maka Unufe, and Zack Test. Unufe is back with the team after missing Wellington and Sydney to personal matters.
Also coming back into camp is Aaron Davis, Seth Halliman, Tua Laei, Peter Malcolm, Jope Motokana, Ben Pinkelman, ConRoy Smith, and Joey Sok. Shalom Suniula is also back with the team and has moved to San Diego full-time. Mike Te'o is the only big name still with the Eagles at the ARC.
Take the jump to read more.
"I'm expecting to field two strong teams – one to play on the Series and one to play in the invitational tournament – and I'm expecting the Falcons to win that tournament," Friday said in a U.S.A. Rugby press release. "It's a real tough tournament and that's a bold statement, but, if these boys want to be pushing for the World Series and these boys want to be in contention for Rio, they need to step up, put in big performances, and show the commitment to task and the mental aptitude to get the job done.
"Likewise those that are given the opportunity to represent the Eagles in Vegas need to deliver. If they don't, and somebody is worthy of having an opportunity on the back of their performances in the Falcons squad, then we will make the changes [prior to HSBC Vancouver Sevens] if need be."
OTC:
Nate Augspurger, Perry Baker, Danny Barrett, Garrett Bender, Pat Blair, Will Holder (WCAP), Madison Hughes, Martin Iosefo, Carlin Isles, Ben Leatigaga (WCAP), Matai Leuta, Folau Niua, Thretton Palamo, Shalom Suniula, Zack Test, Peter Tiberio, Chris Turori, Maka Unufe
ODA:
Aaron Davis (Tiger Rugby), Jope Motokana (Seattle Saracens), ConRoy Smith (Atlantis), Joey Sok (Tiger Rugby)
College:
Seth Halliman (Central Washington), Tua Laei (BYU), Peter Malcolm (Wheeling Jesuit), Ben Pinkelman (Colorado State)