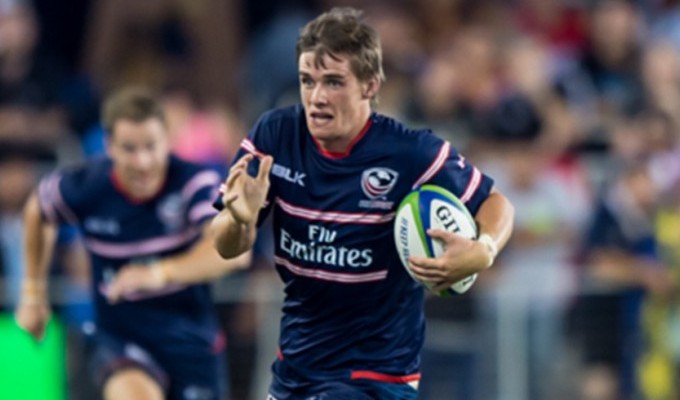 The Eagles played 11 matches in 2015. For a team that averages around 6-8 each year that is almost double their schedule. If you include the Eagles Selects tour to South America in the Spring that is even more. The season was of course capped off by the World Cup where the Eagles failed to win a match but where in position to push against Samoa and led Scotland at halftime. Prior to the World Cup the team picked up two wins over Canada and a win over Japan while having positive results against Australia (at least for a half) and Samoa. Overall, the Eagles were more competitive in 2015 than they have been in awhile.
Several players helped the team in 2015. Chris Wyles took over the captaincy and did a fantastic job leading off the pitch and on the pitch. He already won our Overseas Player of the Year award and could have easily won this award. Blaine Scully is another player that had a great year. He's underrated but the Eagles would not be the same if it wasn't on the roster. Then there is Samu Manoa. He is so influential on the team. He elevates his teammates, can take over a match when needed, and is a defensive monster. Any of those players could have easily won this award. However, this year we picked AJ MacGinty because of his impact on the team.
Take the jump to read more.
The Eagles had been searching for a fly-half since Mike Hercus left the team after the 2007 World Cup. Several players filled in admirably but there wasn't a consistent, clever playmaker and there wasn't an international caliber kicker. That was until AJ MacGinty came along. The Ireland native became U.S.-eligible about a year ago and was instantly brought into the team. He still had to earn his spot on the team but thanks to a strong tour of South America he was given a shot in a starting role and never let it go throughout the year. He looks set to be in the fly-half role for the Eagles for a very long time to come.
He brings an added element as a playmaker. Many moments in the summer saw him thrown a defense off guard and his passes brought the wings into the plays. Defensively, he was better than thought and was often one of the top players making tackles. On top of all of that, it was his kicking that really helped the Eagles. His drop goal helped the U.S. beat Canada in Vancouver but it was his ability to kick from anywhere that gave the Eagles confidence and points. That changed the way the Eagles played for the better, something that will earn him awards.
All TIAR Awards are brought to you by Canterbury USA. For all your team gear as well as replica jerseys make sure to check them out. #CommittedToTheGame