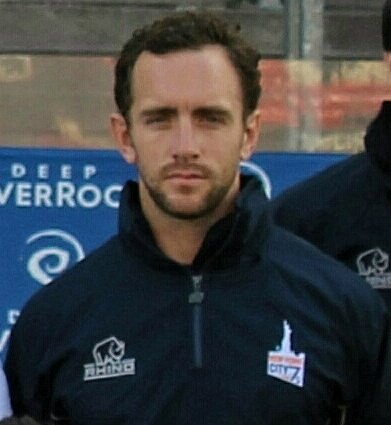 Press Release
New York, NY; January 20, 2016 – The Northeast Academy has officially named Dominic Wareing as its new Director of Coaching. Formerly the Strength and Conditioning coach for the Academy, Wareing is progressing through the coaching development pipeline with USA Rugby in line with his long term career objectives. In his first three opportunities as Head Coach of the Academy's top men's touring side during the latter half of 2015, Wareing won two Cup Championships (Elite City 7s and NY Sevens) and finished as the silver medalist once (Tobago 7s).
Wareing officially replaces Academy co-founder and longtime Coaching Director, Steve Lewis who has moved on to become the Director of Rugby Operations at PRO Rugby North America. Lewis will remain a vital external consultant to the Northeast Academy in so much as it is possible given his important role with the Professional Rugby Organization.
Take the jump to read more.
Lewis' contributions to the Academy and USA Rugby cannot be overstated. Under his direction the Academy has consistently produced on-field results that few other designated pathway organizations can match. His vision, along with that of the Academy's Executive Director, Sean Horan has allowed the Academy to streamline coach and player pathways throughout the northeast region, which draws from two very distinct geographical unions (the Empire GU and the New England Rugby Football Union).
As much as the Academy has enjoyed the influence of Lewis over the years, the Academy staff is also very excited about the graduation of Wareing in the coaching pipeline. He recently concluded a three day visit with Mike Friday and the OTC staff at the start of their most recent Eagles camp in Chula Vista, further enhancing his growth and ensuring that the Academy is developing its coaches and players in systems that prepare them for those implemented at the National team level. Northeast Academy - Boston men's coach Josh Smith, who has worked with the new appointee both as a player and as a coach said, "Dom brings a level of professionalism and Rugby IQ that will absolutely continue to develop our Academy players at the highest level."
Said Wareing, "I'm honored to accept the challenge of maintaining the high standards set by Coach Lewis, Sean Horan and the current coaching staff, while also increasing the focus of bringing in more young players, to offer high performance opportunities to the next generation."
Coach Wareing's accelerating success rates are indicative of his performance driven mindset. His clear and concise planning abilities make him an excellent fit as a leader in the ever changing and ever more competitive USA Rugby landscape. The Northeast Academy is indeed in good hands.