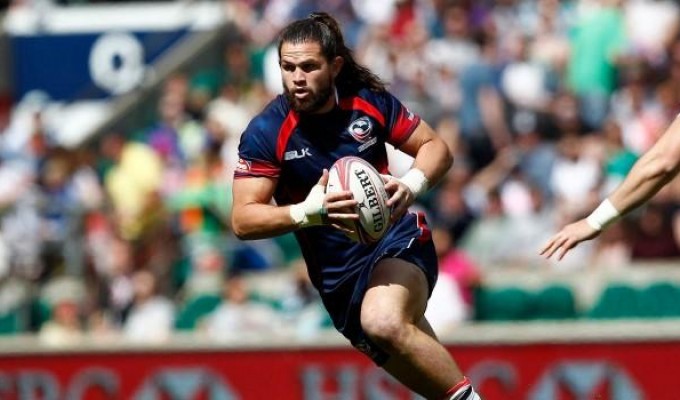 Danny Barrett returns and Ben Pinkelman could make his Eagles 7s debut as head coach Mike Friday has picked his team for Wellington and Dubai. By and large the squad hasn't varied from the same group that has played together over the last few years but with a few newish players continuing to be brought on. Pinkelman is the only player that could make his debut and he joins the likes of Kevin Swiryn, Matai Leuta, Thretton Palamo, Will Holder, and Nate Augspurger as solidifying their place on the team. Stalwarts Perry Baker, Barrett, Madison Hughes, Carlin Isles, Folau Niua, Maka Unufe, and Zack Test all return. Brett Thompson and Garrett Bender are the two big names missing.
Barrett is returning from injury and his presence will be huge for the team. He's a big presence both on the restarts but at the breakdown. He, along with Palamo, Leuta, and Pinkelman should give the team extra power up front. Of the 13 players on the squad it will be narrowed down to 12 in time for Wellington. They play Samoa, England, and France in New Zealand.
Take the jump to read more.
"I would have taken third place going into Christmas if offered to me at the start of the season," Friday said in a U.S.A. Rugby press release. "As we knew we would be undercooked going into the first two legs. But with where we were and how things were unfolding, to say I am disappointed that we are not on at least 38 points at this stage is an understatement.
"We are in the 'Group of Death' in Wellington so we need to prepare ourselves to the best of our ability and not expect things to happen, but take control and make them happen."
Squad: Nate Augspurger, Perry Baker, Danny Barrett, Will Holder, Madison Hughes, Matai Leuta, Carlin Isles, Folau Niua, Thretton Palamo, Ben Pinkelman, Maka Unufe, Kevin Swiryn, Zack Test