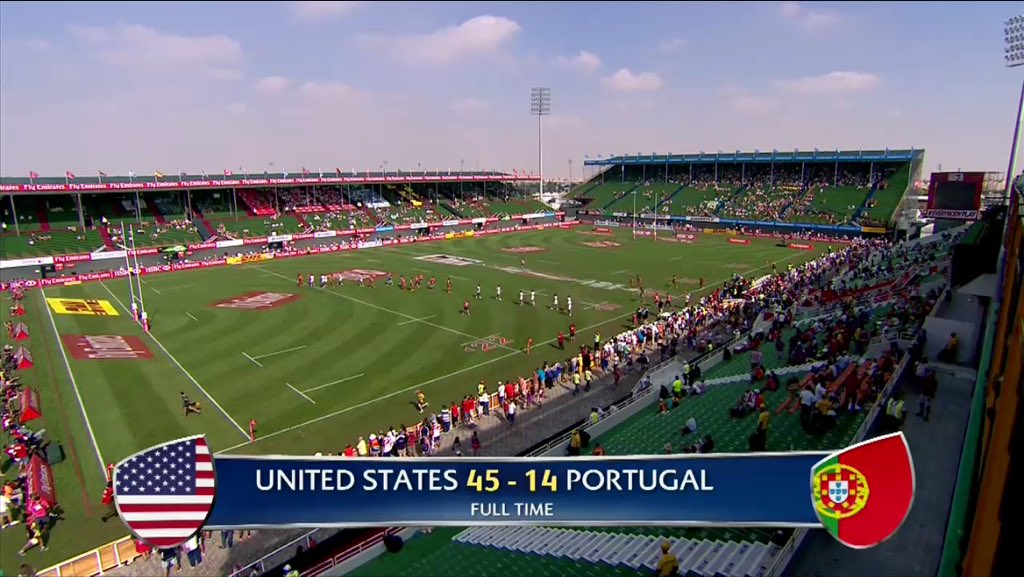 The Eagles got off to the best start possible at the Dubai 7s with a comprehensive and clinical 45-14 win over Portugal. Up next will be France (5:36 a.m. et/2:36 a.m. pt) where a win should put them in the Cup quarterfinals. The U.S. wasted no time getting on the board as Perry Baker would score the first of his two tries just one minute in. Brett Thompson did well to win the restart and the ball was quickly fed out to Baker who did the rest.
The lead was soon stretched to 12-0 when more team play saw Zach Test benefit for the try. Overall, Test had a phenomenal match putting in tackle after tackle and being a leader on the pitch. His effort was exemplified by making a try saving tackle just before halftime (although the replay looked like the Portuguese player got the ball down before being dragged into touch). The U.S. were soon up 19-0 when Garrett Bender beat his defender for the try.
Take the jump to read more.
Portugal weren't shut out completely and they were able to capitalize with a minute remaining before halftime. Carl Murray exploited a gap in the defense to finally get Portugal on the board. That was soon neutralized by another try from Baker. At halftime the Eagles led 26-7.
In the second half the U.S. did a lot of defending early as Portugal had the possession. The defense held firm for the most part but eventually Portugal were able to score. Suddenly Portugal looked like making it a match at 26-14. Had Portugal been able to convert on the Test try saving tackle it could have been a closer match.
After Portugal scored the Eagles turned it up to another level. In his first real touch of the ball Carlin Isles was able to show his pace and beat two defenders on the wing for the score. Nate Augspurger then grabbed the restart and just like that the Eagles had the match in the bag at 40-14. Brett Thompson finished off the scoring after poaching the ball at the breakdown and running it in for a try.
If the Eagles can play against France like they did against Portugal they could be set for a great weekend.
Tries:
Baker (2), Test, Bender, Isles, Augspurger, Thompson
Conversions:
Hughes (5), Augspurger
Starters:
Thompson, Bender, Test, Niua, Unufe, Hughes, Baker