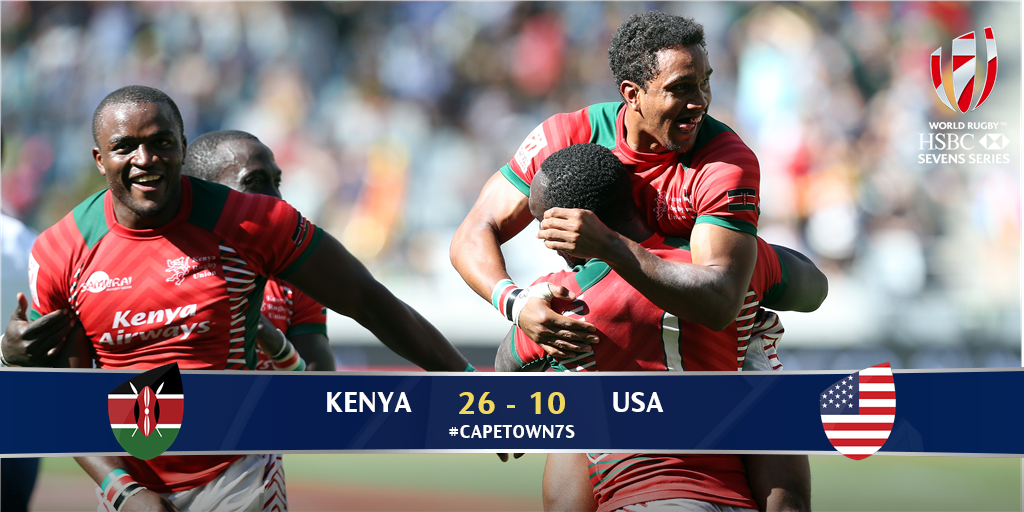 In a frustrating match on multiple accounts the U.S. have called to Kenya 26-10 in the Cup quarterfinals at the Cape Town 7s. The Eagles were simply outplayed in the match and were uncharacteristically sloppy in several areas of the match, including on restarts. Additionally for fans, the day two stream was geoblocked in the U.S. and not available on NBC Sports, causing them to look for other options. The U.S. will now play New Zealand in the Plate semi-finals at 9:12 a.m. et/6:12 a.m. pt.
Kenya were the first on the board win the match when they were able to steal a U.S. line out, another area in which the U.S. usually excel, and eventually went through the phases to score. The U.S. then couldn't claim the restart and discipline issues would allow Kenya to retain the ball and run through set pieces. Eventually that is all Kenya would need to run out to a 12-0 lead. It was soon 19-0 after another botched restart from the Eagles. After temporarily gaining the ball back Kenya marched down the match for another try off a quick tap.
Take the jump to read more.
The U.S. did have some opportunities in the half but overall did not show the same kind of effort that they had last week in Dubai or even on day one in Cape Town.
Regrouping somewhat in the second half the U.S. were able to get on the board. Kevin Swiryn pulled in a couple of tacklers and then fed Perry Baker who raced in for the try. That scene was repeated a couple of minutes later to put the U.S. back in it at 19-10. However, more penalties and poor passes gave up too many possession and eventually Kenya were ale to put the nail in the coffin with a final try.
The loss for the U.S. was disappointing in many senses. First, their lack of ability to stay out of the penalty column and execution in other areas of the match was poor. Second, with England missing the Cup quarterfinals completely and New Zealand and Fiji losing in their quarterfinals there was the opportunity for the Eagles to move to first in the standings had they made the final or won the tournament. Now the semi-finals will feature France vs. South Africa and Argentina vs. Kenya.
Starters:
Thompson, Bender, Test, Isles, Niua, Unufe, and Hughes