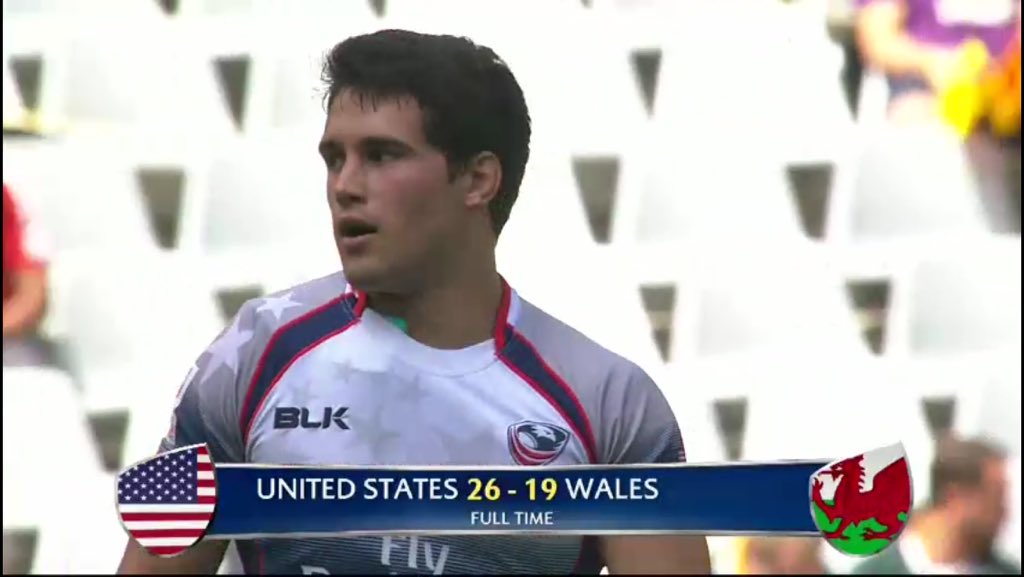 It wasn't pretty and there were plenty of places the Eagles could improve upon but in the end the U.S. did enough to beat Wales 26-19 in their opening match at the Cape Town 7s. Zack Test was the hero of the match with a couple of timely tries to help the Eagles overcome an early deficit. They will now face Portugal at 6:36 a.m. et/3:36 a.m. pt with the potential of clinching a spot in the Cup quarterfinals.
The match began with a number of U.S. errors that proved costly. In particular they had a horrendous time holding on to the ball. Early on they took too many risks on their offloads and it led to a looping pass that Chris Knight was able to pick off for the opening try. Another bad pass a few minutes later prevented the U.S. from springing Carlin Isles. A third sloppy pass allowed Wales to pick up the loose ball and see Luke Treharne go in for the second try. After just a few minutes the Eagles were down 12-0.
Take the jump to read more.
After the second try from Wales the U.S. were able to finally find their composure and gain possession and territory. After winning a turnover the U.S. quickly worked the ball out to Isles where he ran nearly the length of the pitch for the try. With the conversion the U.S. were back in it at 12-7.
A second try for the U.S. came just before halftime. Another Welsh mistake gave the U.S. the opportunity they would need to stay patient and go through multiple phases. The difference came when Maka Unufe put in a sweet backhanded offload to find Brett Thompson for the try and to level the score at 12-12.
The second half was much better for the Eagles. Matai Leuta created a turnover by knocking the ball loose and Test was there to scoop up the ball and head in for the try. The easy conversion gave the Eagles their first lead at 19-12.
Credit to Wales they struck back quickly. Using their own strong team play and a great mazy run from Treharne saw them level the score at 19-19. Still the U.S. were the better team in the second half and thanks to more team play were able to take the lead. A lovely set of offloads finally saw Test evade the defense for the winning try. The U.S. were able to wind out the clock to end the match.
As mentioned, it wasn't the ideal match for the Eagles but if it means they got out some of the rust from their gears then they could be positioned from a strong finish to day one.
Starters:
Thompson, Bender, Test, Isles, Niua, Unufe, and Hughes.