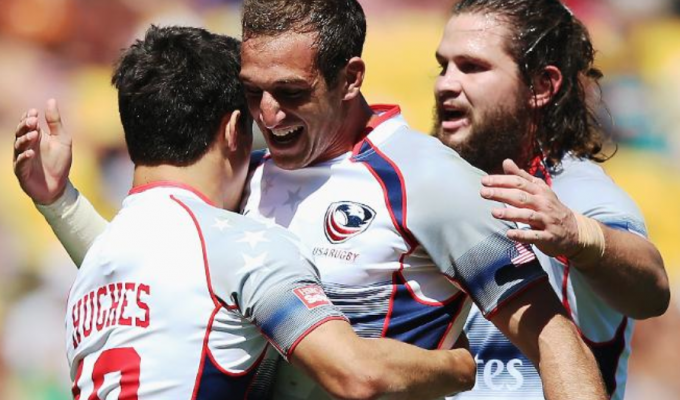 U.S.A. Rugby confirmed today that Martin Iosefo and Nate Augspurger have joined the Eagles 7s program full-time as residents in Chula Vista. Both of those were widely reported before today's release but the announcement does confirm that the core group of players like Zack Test, Perry Baker, Carlin Isles, Folau Niua, Garrett Bender, and Madison Hughes are returning. One name missing from the list is Andrew Durutalo but given that he just played at the Halloween 7s the odds are high it was just a clerical error. We'll update you when we find out. In addition to the guys on the U.S.A. Rugby/USOC payroll, the team has three WCAP players on the roster in Will Holder, Ben Leatigaga, and Mattie Tago.
On the women's side the team has added a number of new players under new head coach Jules McCoy. Like the men's side, the core group of players returns with the likes of Lauren Doyle, Vix Folayan, Kelly Griffin, and Alev Kelter all set to make runs at the Olympics. Joining them are a number of up and coming players, including APRTC pair Ashley Perry and Rachel Griendling, already capped Eagle Richelle Stephens, and the best come back story in rugby Jillion Potter. Also returning to the fold is Jessica Javelet.
Take the jump to see the squads.
Men:
Nate Augspurger, Perry Baker, Danny Barrett, Garrett Bender, Pat Blair, Nic Edwards, Will Holder, Madison Hughes, Martin Iosefo, Carlin Isles, Ben Leatigaga, Matai Leuta, Folau Niua, Mattie Tago, Mike Te'o, Zack Test, Brett Thompson, Steve Tomasin, Maka Unufe
Women:
Emily Azevedo, Bui Baravilala, Meya Bizer, Megan Bonny, Lauren Doyle, Nana Fa'avesi, Carmen Farmer, Vix Folayan, Irene Gardner, Rachel Griendling, Kelly Griffin, Abby Gustaitis, Jessica Javelet, Kathryn Johnson, Alev Kelter, Hannah Lopez, Elise Miller, Amy Naber, Jane Paar, Ashley Perry, Jillion Potter, Richelle Stephens, Kristen Thomas, Nia Williams, Kate Zackary