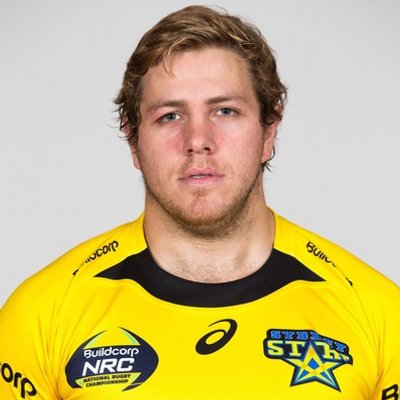 With the likelihood of Phil Thiel retiring that means another gap is going to open up at hooker. One of the likely options is Tom Coolican who just missed out on World Cup selection. He spent the summer playing in the Shute Shield and the National Rugby Championship before picking up an injury. We caught up with Coolican to see how his recover is going and more.
TIAR:
What's your injury and how did it happen?
Tom Coolican:
I've got a few niggling injuries that are the result of playing 2 years of straight rugby- I had to get surgery last week on my left knee- my bursa (the pad which goes between your knee cap and skin) has been bursting every game- the medical staff have tried to manage it through weekly drainage and cortisone injections but it got infected last week and I had to spend some time in hospital.
TIAR:
You unfortunately missed out on World Cup selection. What do you think you need to do to put yourself in contention for the next cycle?
Take the jump to read more.
TC:
I was devastated to have missed out on the World Cup, having said that, my coaches at Sydney University (both of whom are coaching at the NSW Waratahs next year) and the Sydney Stars have been happy with how I have played this year. I returned to the Shute Shield as requested by Mike Tolkin as it was my best option to gain selection in the 2015 PNC and RWC. I would have stayed in New York and played at the Athletic Club if it meant I had a better chance playing for the Eagles, but Tolks was emphatic about me playing the best standard of rugby possible, and he believed that this was in the Shute Shield. I made myself available for the American Selects tour to South America however I was told that I would be better served continuing in the Shute Shield.
I treasure every opportunity I represent the USA and I was disappointed not to be given the opportunity in camp or in the PNC to prove my worth. Despite all of this, having played against Super 15 players and Wallabies week in week out during the NRC I felt like I held my own and I would be confident that I wouldn't look out of place if I had the opportunity to play Super 15 in the next couple of years. I'm not sure where I stand with the USA coaches or what their selection policy is for a hooker so it's hard to put into words what I need to do to get selected again.
TIAR:
You were able to get a good run of games in for the Sydney Stars before your injury. How do you think the season went for you?
TC:
The whole competition has been a welcome distraction from the RWC and I have had a blast. The NRC is quite an interesting competition, we don't get a break between the Shute Shield and the first round of NRC so while you are physically and mentally exhausted as you have just finished an 8 month season, you don't have the luxury of taking it easy because the competition is a substantial step up from the Shute Shield. Our head coach Pete Playford is unconventional to say the least, but given everyone's fragile mental and physical state, his quirkiness has been an awesome injection.
Furthermore, what I have learnt about Rugby from our experienced coaching staff including Dan Parks who played 72 tests for Scotland, as well as our defence coach, Dave Lyons who is a Rugby God both in Australia and in France has been invaluable for my development as a player. Our win versus the Perth Spirit which was essentially the Western Force Super 15 side was one of the most satisfying wins I have ever been involved in. Also, the travel particularly has been enjoyable, and I'm very disappointed to be injured for this week's semi-final in Brisbane.
TIAR:
Having played in various countries, how would you compare the level of the play in the NRC to other leagues?
TC:
The NRC is the fastest rugby I have ever played- faster than international games and in some cases faster than super 15 games. The GPS data combined with the amount of time the ball is spent in play (around 40 minutes per game- test matches are closer to 30 minutes) quantify that this is fast, hard rugby. I have played 2 years of NRC and because penalty and drop goals are only worth 2 points and conversions are worth 3 points, this has meant that I'm yet to have witnessed a penalty or a drop goal attempt. The law change has made the game faster, with an emphasis on running teams off their feet. Because there are 4 teams in NSW the super 15 talent is a bit diluted, however this is not the case with the Canberra, Melbourne, Perth and even Brisbane City sides which are essentially Super 15 outfits. The games against these sides are a huge step up, but we all rise to that challenge.
TIAR:
The NRC is over, what are your plans?
TC:
I'm an attorney by trade, I will head back to work although rugby for me is unfinished business so I will keep playing for the time being. I would be honoured to represent the Eagles again, however I'm not looking that far ahead. It makes it difficult for me to get a Super 15 contract as I am a foreign player, however if I have another good year with Sydney University, who knows. Obviously the possibility of a professional league in America intrigues me and if I could tie in some legal employment with my rugby, I would be keen to throw my hat into the ring and head back to the states. I'm also very busy planning a welcome party for Nick Wallace, who's moving to Sydney in January. Toby L'estrange, Chris Chapman and myself are very excited for Wally's injection, both on and off the field!
TIAR:
Having watched the Eagles at the World Cup, how would you rate their performance?
TC:
Having watched the PNC and the RWC it would seem that the former was not a good predictor of how teams would perform at the World Cup. It was clear that in the PNC Samoa and Japan didn't field full strength sides and I wonder if the Eagles, even Tonga went to England with a false sense of where they stood. There were some impressive individual performances though. I thought Seamus Kelly and Thretton Palamo in the backline both had strong tournaments. Whilst Cam Dolan and Samu Manoa were strong in the forwards. Scott Lavalla's leadership at the set piece and work in defence was sorely missed, and Todd Clever's presence particularly as a ball carrier was missed. He is one of the most dynamic ball carriers I have played with, and his ability to bend a defensive line and make 'big plays', similar to Samu is world class. I loved playing under Todd and this will probably get me into trouble but I think it was a huge mistake not to take him to the World Cup. The effort and intent of the playing group however cannot be questioned, I know what the boys sacrificed to get to the World Cup and it was visibly clear that they couldn't have given anything more.