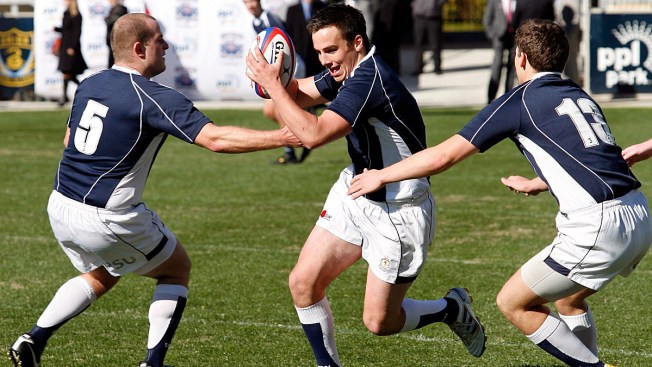 By Ryan Trost
After what has been an extremely entertaining month of play in Rugby East, the final stretch is upon us. The seemingly iron-clad favorites to win the conference in an early runaway dropped both of their final two conference matches, but managed to pick up what could be important try bonuses in each of their seven matches on the season. With two games yet to play for both of the remaining two contenders, those 27 standings points probably won't be enough for Army to hold its lead. Kutztown and Penn State both have a lot left to say about the conference title. The two will meet on Nov. 7th and depending on how this weekend works out, that should be the conference title game.
Penn State really is an interesting team at this point of the season. An early out of conference loss to AIC, followed by surprisingly close calls against Wheeling and St. Bonaventure saw the team drop ever so slightly in the national rankings. Still a top ten team, they got back to their more expected margin of victory over West Virginia (79-5), but then suffered their second overall loss on the season at West Point. First year Head Coach, Blake Burdette seems to have righted the ship since then however. While other teams in the conference have been taking the headlines, his Nittany Lions have quietly rattled off blowout wins over Buffalo and Delaware.
Take the jump to read more.
They say that it is better to be tested early instead of late and Penn State will be hoping that axiom holds true in its final two weeks of the 2015 fall season. Those two early losses on the year serve as a prime example of what they've faced already. If AIC were in Division 1A, they would almost assuredly be ranked inside the top ten along with three of the Lions' other opponents this season (Army, Wheeling and the upcoming Kutztown). In that vein, the lads at State College, PA have already faced three top ten teams on the season, so they do have that going for them coming down the stretch. Neither Kutztown's nor Iona's talent will be a surprise to anyone in blue and white.
Yet the reality is, Penn State currently sit at 4th in the conference and 9th nationally. With 20 points on the conference season, the most they can hope for after their final two matches is 30. Their opponent this weekend, Iona is out of the race for the conference title, but is keen to continue its rise to the national top ten. Having already spoiled Army's season, Bruce McLane's Gaels are clearly a dangerous breed, underdogs with sharp teeth. PSU's road to the conference title is not going to be easy in any way.
Even if they do put a classic thumping on the undersized Gaels, Penn State's hopes for a conference title depend on their final appearance against the vaunted and in form Kutztown Golden Bears the following week. KU currently holds the pole position in the conference race, and looks set to take that momentum right into the tilt with Penn State. At 5 – 0 with 25 points already, they are just 6 standings points from guaranteeing the title for themselves. One bonus win against WVU this weekend gives them 30, at which point even a bonus loss to Penn State would put them out of reach. So Penn State will be facing Iona knowing full well what they need to do. Likewise, they will face Gregg Jones's KU team after that with just as clear a purpose.
Odds aside, this is still Penn State Rugby and conference titles are promised to no one. They are perennial contenders for national championships for a reason. They are deep on talent and coaching. They are fast, they are fit and they are well drilled defensively as well as in attack. As long as they get by Iona, they will have a shot at the conference crown. It's a bit of a slim chance, but it is a chance none the less. Both this week and next should be full of pressure packed, high intensity action for the Rugby East conference, especially for this year's enigmatic Penn State Nittany Lions.