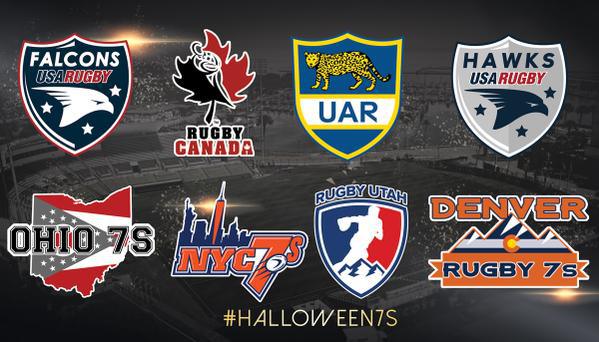 Going over the rosters and it's quickly apparent that this weekend's Halloween 7s is stacked. Not only are large parts of the U.S., Canada, and Argentina full teams in the tournament but there are also dozens of players from around the country that could potentially make and impact on the Eagles over the next few years. We've compiled the rosters so you have them handy for tomorrow.
Pool A
Falcons:
Colton Cariaga, Alex Faison-Donahue, Seth Halliman, Tua Leai, Will Holder, Peter Malcolm, Ben Pinkelman, ConRoy Smith, Joey Sok, Kevin Swiryn, Andrew Durutalo, Alex Elkins
Denver:
Celester Asuega, Logan Collins, Max de Achaval, Walt Elder, Ryan Hartnett, Kyle Hitt, Bobby Impson, Kelly Mercer, Jeremy Misailegalu, Gannon Moore, Kenny Scott, Kevon Williams
Argentina:
Santiago Alvarez, Renzo Barbier, Sebastian Conceliliere, Rodrigo Etchart, Bautisa Ezcurra, Fernando Luna, Nicholas Menendez, Axel Muller
Take the jump to read more.
Utah:
Robbie Ah Sue, Josh Anderson, Austin Griffin, Meiohihifo Kuli, Tonata Lauti, Ben Nichols, Joseph Nichols, Jason Pye, Kevin Schofield, Will Taylor, Josh Whippy, Jared Whippy
Pool B
Hawks:
Ben Leatigaga, Pat Blair, Matai Leuta, Madison Hughes, Garrett Bender, Peter Tiberio, Nic Edwards, Carlin Isles, Nate Augspurger, Maka Unufe, Perry Baker, Martin Iosefo
Ohio:
Taylor Howden, Luke Markovich, Ryan Cochran, Matt Hughston, Aaron Davis, Dom Mauer, Kelly Kolberg, Chad Joseph, Shawn Riley, Pila Huihui, Rocco Mauer, Allan Hanson
Maple Leafs:
Admir Cejvanovic, Nanyak Dala, Justin Douglas, Sean Duke, Mike Fuailefau, Lucas Hammond, Nathan Hirayama, Pat Kay, Phil Mack, John Moonlight, Conor Trainor, Adam Zaruba
New York:
Akinola Raymond, Dylan Carrion, Eric Deuchle, Chris Frazier, Pono Haitsuka, Harry Higgins, Rick Kirkland, Ryan Matyas, Sean Rafferty, Alex Schwarz, Mike St. Claire, Connor Wallace-Sims