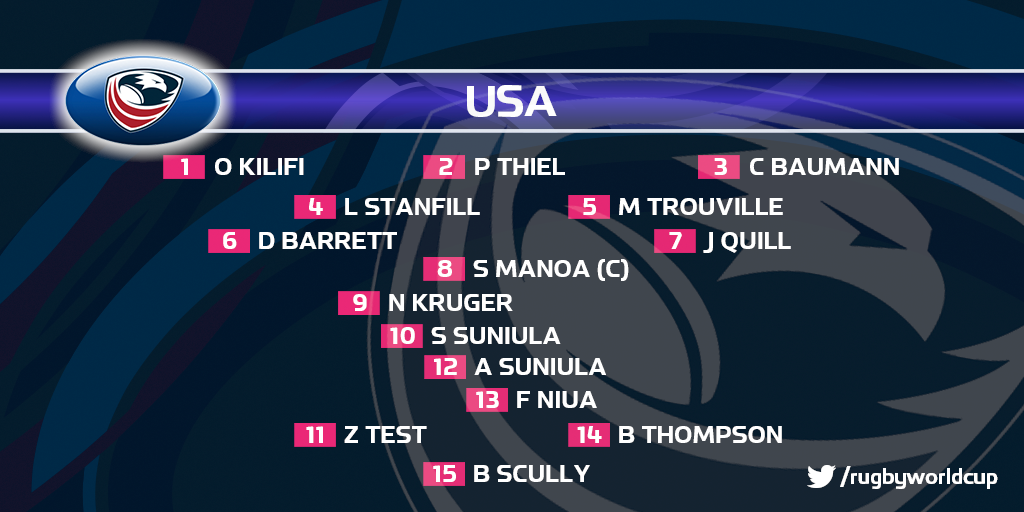 As expected the Eagles have made near wholesale changes to their line-up as they get ready to face South Africa on Wednesday. With the U.S. targeting Japan on Sunday the short turnaround time means that head coach Mike Tolkin has swapped out 12 of the starters against Scotland with only Phil Thiel, Samu Manoa, and Blaine Scully keeping their places. Manoa will captain the side for the first time.
Several players will be making their debut at this World Cup while others will make their overall World Cup debut, including Matt Trouville, Niku Kruger, Zach Test, and Folau Niua. With Joe Taufetee and Mate Moeakiola on the bench it means that if they play every player on the roster will have played at the World Cup.
Up front Ollie Kilifi and Chris Baumann, who have been the top two choices at reserve prop in the first two games, will start with Titi Lamositele, Taufetee, and Moeakiola in reserve. Phil Thiel will keep his starting spot at hooker with Zach Fenoglio on the bench.
Take the jump to read more.
At lock Lou Stanfill will make a start in his third consecutive World Cup and also gain his 56th cap. He's set to retire after the World Cup so this may be the last time that fans get a chance to see him start. Joining him in the locks is his Seattle teammate Matt Trouville. In the back-row Danny Barrett will get an opportunity to start at flanker alongside John Quill while Samu Manoa will remain at his usual number eight. Cam Dolan and Al McFarland are the reserves.
Niku Kruger only has a couple of appearances for the Eagles but will start at scrumhalf. Shalom Suniula will start at fly-half. Only Mike Petri is an option off the bench. At wing Zach Test will make his starting debut alongside his 7s teammate Brett Thompson while Blaine Scully will be the fullback. Andrew Suniula and Folau Niua are the centers. Chris Wyles is the back line replacement option.
Forwards:
Ollie Kilifi, Phil Thiel, Chris Baumann, Lou Stanfill, Matt Trouville, Danny Barrett, John Quill, Samu Manoa (C)
Backs:
Niku Kruger, Shalom Suniula, Zach Test, Andrew Suniula, Folau Niua, Brett Thompson, Blaine Scully
Bench:
Joe Taufetee, Zach Fenoglio, Mate Moeakiola, Titi Lamositele, Cam Dolan, Al McFarland, Mike Petri, Chris Wyles