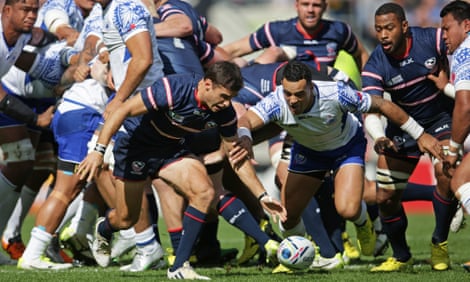 The vibe around the Eagles over the last year plus since they qualified for the World Cup is that they really wanted to take down Scotland at the World Cup. Absolutely they wanted to beat Japan and Samoa and are planning accordingly. They also want to beat South Africa. Any idea that they wouldn't do their best against any of them is ludicrous. However, there was a special twinkle in the eye when you'd bring up Scotland. The Eagles really, really want to beat Scotland and after Scotland had to work for a half plus against Japan and likely will change their line-up to rest starters ahead of South Africa think they have a great shot at winning.
As such don't expect them to change around their line-up too much. There may be a few changes here and there but the bulk of the team will remain the same. Here's who we think gets the start.
Prop:
Eric Fry and Titi Lamositele
Both Ollie Kilifi and Chris Baumann came on and did well in the last ten minutes but both Fry and Lamositele did well and will almost certainly start once again. They will be up against it against Scotland but with a World Cup match under their belt they should be able to settle down.
Take the jump to read more.
Hooker:
Phil Thiel
This is a real question. Zach Fenoglio struggled in the lineout against Samoa but did well elsewhere around the pitch. It's been close between him and Phil Thiel this summer so we think things will get a shake up with Thiel starting.
Lock:
Hayden Smith and Samu Manoa
This is another area in which we think the Eagles will make a slight change. We think that Hayden Smith stays in the line-up but that Samu Manoa will slide down to lock where he played quite a bit with Northampton. This is really more to fit Danny Barrett in on the back-row. Greg Peterson was good but maybe and and Cam Dolan can come off the bench and provide a punch.
Back-row:
Al McFarland, Andrew Durutalo, Danny Barrett
With Manoa sliding down to lock in our roster guess Barrett should come into the line-up. It's also possible that Cam Dolan comes in at lock or the back-row but we think he still comes off the bench.
Scrumhalf:
Mike Petri
This is a pretty obvious choice. Mike Petri is the number one and will start. He will probably be changed out for the South Africa match.
Fly-half:
AJ MacGinty
This is the same as Petri. It wasn't the greatest World Cup debut for MacGinty so look to rebound against Scotland.
Center:
Thretton Palamo and Seamus Kelly
Both Palamo and Kelly are playing well and there isn't any reason to make a change at this point. Having Folau Niua on the bench to provide an option at center, fullback, or fly-half is nice.
Wing:
Taku Ngwenya and Chris Wyles
Same as the centers. Both Ngwenya and Wyles are some of the better players on the squad and the first names on the team sheet. Ngwenya's pace against Scotland could cause a lot of problems.
Fullback:
Blaine Scully
All indications are that Scully is healthy enough to play on Saturday. If he's healthy enough to play then he's healthy enough to start.
Bench:
Zach Fenoglio, Ollie Kilifi, Chris Baumann, Greg Peterson, Cam Dolan, Shalom Suniula, Folau Niua, Brett Thompson
The front row is pretty straightforward with Kilifi, Baumann, and Fenoglio all options. Rounding out the forwards should be Cam Dolan and Greg Peterson. Possibly John Quill makes it in there. In the backs it's Shalom Suniula, Folau Niua, and Brett Thompson once again.