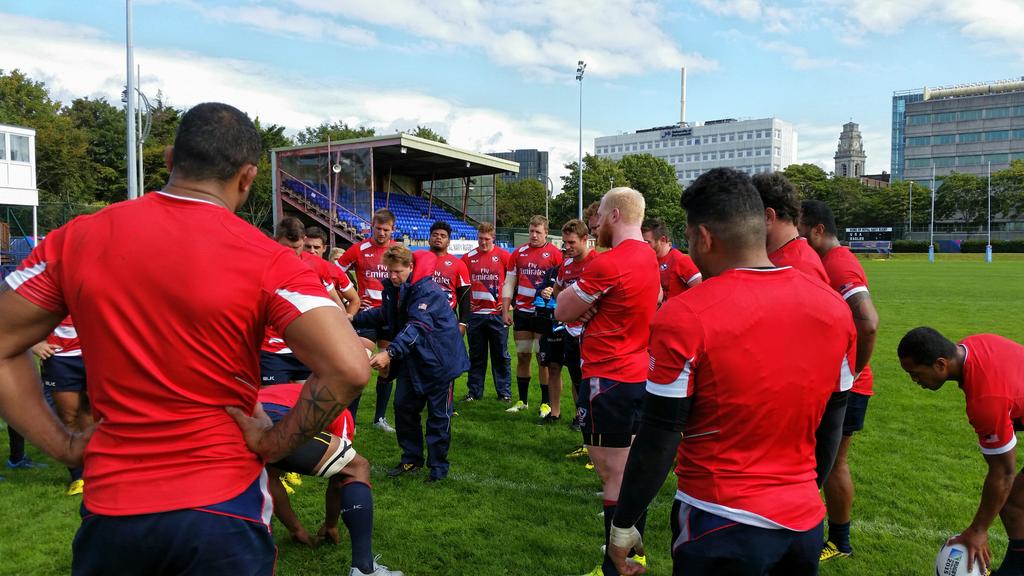 We are less than a week away from the Eagles opening up their World Cup campaign against Samoa. The Eagles have aims of pushing for a quarterfinal spot and automatic qualification to the 2019 World Cup and if they want to achieve that they need to beat Samoa. Expect a full strength line-up as they push for the win but who is going to get the start? We share who we'd go with if we were the coaching staff.
Prop:
Eric Fry and Titi Lamositele
Over the course of the summer (and that's why you have seven warm-up matches) it became clear that Fry and Lamositele were the best options. Not only were they they best in the scrum but they also had the open field skills to match. If the Eagles want to win they are going to need both Fry and Lamositele to have big games. World Rugby regulations say teams have to have two props on the bench so look for Ollie Kilifi and Mate Moeakiola to get the nods there.
Take the jump to read more.
Hooker:
Zach Fenoglio
Both Fenoglio and Phil Thiel could easily start here but based on recent form we think that Fengolio will get the start. Having Thiel come off the bench and provide veteran support probably isn't a bad thing.
Lock:
Greg Peterson and Cam Dolan
There are real questions at lock now that Hayden Smith is presumably healthy. Greg Peterson, Smith and Cam Dolan are all real options at lock and only two of them are going to start. Smith has arguably been the best Eagles lock over the last four years and has typically been favored to start when healthy. However, he hasn't played much this summer so maybe conditioning is a factor? With Peterson and Dolan both playing well we think they get the start with Smith coming off the bench. That may chance in the next match but that's what we're going with for now.
Back-row:
Al McFarland, Andrew Durutalo, Samu Manoa
Samu Manoa is a no brainer here. He's the first name you put on the team sheet. Outside of Manoa it could go several ways. Andrew Durutalo is on excellent form at the moment and we think he starts. Al McFarland will likely start at the other spot if he is concussion free. Ideally that spot would be filled by Scott LaValla if it weren't for his unfortunate injury. John Quill is an option, as are Dolan and Danny Barrett but at this point they look more suited to playing lock and number eight.
Scrumhalf:
Mike Petri
This is Mike Petri all the way. He is playing very well at the moment.
Fly-half:
AJ MacGinty
Barring injury, no one is replacing MacGinty as the starting fly-half for the Eagles at the moment. His kicking, defense, and play making ability are simply too valuable for the Eagles not to have on the pitch. Look for Shalom Suniula to back up both Petri and MacGinty
Center:
Thretton Palamo and Seamus Kelly
Heading into the summer there were four players--Palamo, Kelly, Andrew Suniula, and Folau Niua--that looked like threats to start but over the course of the summer that has been narrowed down to Palamo and Kelly. They've had some defensive issues at times this summer but have also looked very good.
Wing:
Blaine Scully and Taku Ngwenya
Scully is always going to start but lately Ngwenya has shown why he is such a valuable player and will start. His pace could give Samoa troubles.
Fullback:
Chris Wyles
Chris Wyles. That is all
Bench:
Phil Thiel, Ollie Kilifi, Mate Moeakiola, Hayden Smith, John Quill, Danny Barrett, Shalom Suniula, Folau Niua