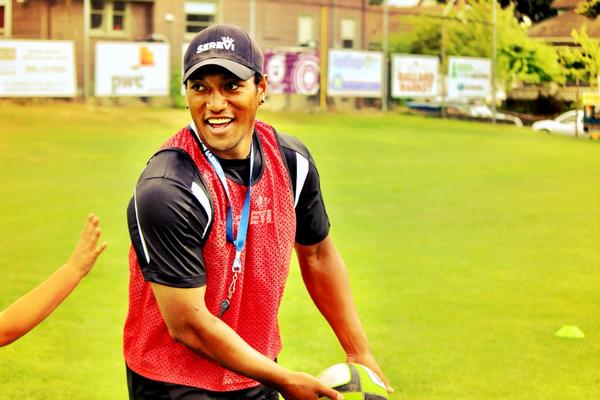 Shalom Suniula could play a very important part of the Eagles at the World Cup. As the primary back-up for both Mike Petri and AJ MacGinty Suniula will have the opportunity to get minutes at fly-half and scrumhalf. The ATAVUS coach and Seattle Saracens player took some time out of his busy schedule (he's also doing to some work for ATAVUS while in England) to answer a few questions about the Eagles preparations and goals.
TIAR:
What is the mood of the team since they've been in England?
Shalom Suniula:
The mood has been full of excitement and very anxious to get the first game underway. It's a very special occasion and the people of Portsmouth have been very receptive.
TIAR:
What has the training schedule been like since arriving?
Take the jump to read more.
Shalom Suniula:
Training schedule has been up-tempo as per usual, most of the foundation has been laid over the past couple months we've had together - now it's time to put it together.
TIAR:
What's a typical day like? How do the players stay loose? Any time for site seeing?
Shalom Suniula:
A typical day starts with a great English breakfast then it's all business from there. Very limited free time but most of the guys are able to get out and about and enjoy what this beautiful city has on offer.
TIAR:
Describe the team's welcome in Portsmouth.
Shalom Suniula:
The team's welcoming was very memorable, especially receiving our RWC caps and medals. Words really couldn't describe the moment other than it was so honorable to represent USA at the biggest stage of Rugby. Seeing all the great players who have participated and left memorable moments at this tournament was great to see and reflect on during the ceremony.
TIAR:
To get to the quarterfinals or an automatic spot at the 2019 RWC the team needs a good result against Samoa. How is the team going to get a win?
Shalom Suniula:
The outcome is obviously very important and we want nothing but a win, but we are laser focus on our roles and jobs which will give us the result we deserve. It's a process and we have a plan in place, so execution will be the key.
TIAR:
What's one thing fans can do to get behind the team?
Shalom Suniula:
The fans have been fantastic - one way they can show us their support is to jump on social media and shoot their favorite player a message of encouragement. Everyone is putting in hard-work to hopefully make you all proud.