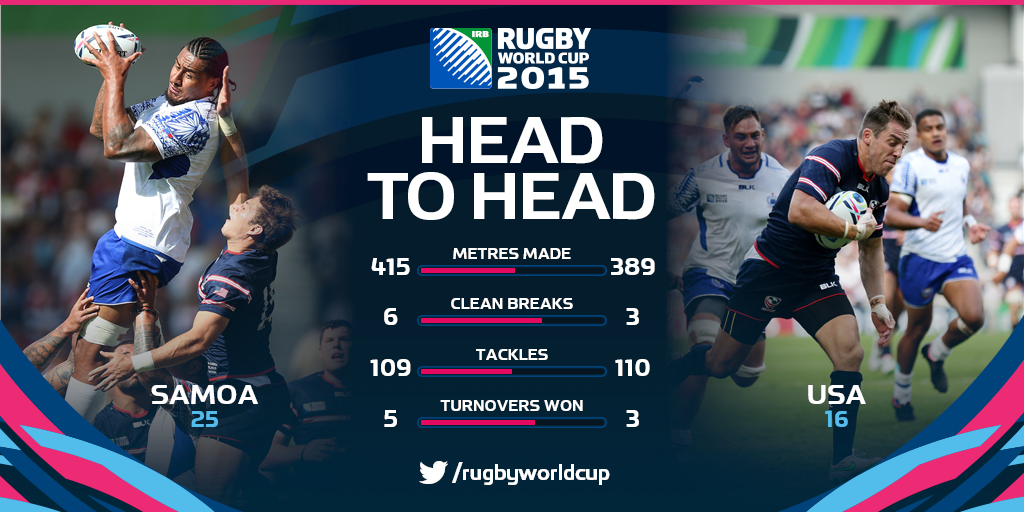 The stats pretty much tell the story of the Eagles-Samoa match. Overall, the match was fairly even with each team statistically even in most categories. However, one big statistic stands out as the difference: 14 penalties conceded for the U.S. to only 7 for Samoa. Other key differences include the U.S. retaining only 9 of 13 line outs (69%) while Samoa kept 19 or 20 (95%) and Samoa's five penalties (out of eight) to the Eagles two (out of four).
Overall Samoa had more of the possession and territory than the Eagles. Samoa picked up a total of 415 meters to 389 for the Eagles. In terms of possession Samoa had the edge 55% to 45%. In the first half it was a 58-42% split with the second half being more even at 53-47%. Samoa had a 61-39% advantage in territory in the first half while it became 53-47% in the second half.
Take the jump to read more.
Both teams were even in line breaks with 8 a piece while Samoa beat 29 defenders to the U.S.'s 19. Offloads were 12-8 in favor of Samoa while they also won 98% of their rucks and the U.S. won 92%. The U.S. did complete more passes at 131 to 123 while Samoa had more runs at 113 to 100. Samoa won all seven of their mauls while the U.S. won one of their two.
Surprisingly Samoa conceded 16 turnovers but the U.S. weren't far behind at 14. Each team won all of their scrums (eight for Samoa, five for the U.S.) while Samoa made 84% of their tackles for a total of 109. The U.S. only made 75% of their tackles with a total of 110.
Of course in the end the only difference is the scoreline. Both teams had two tries a piece, none of which were converted. As noted, Samoa had five penalties to two for the Eagles. Those nine points were the difference in the match.