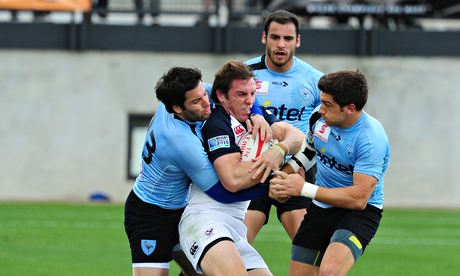 The U.S. National Team's schedule in the upcoming Americas Six Nations, which will likely be known as the Americas Rugby Cup, is slowly coming together. U.S.A. Rugby has been tight-lipped about the competition but both the Brazilian Rugby Union and the solid folks at Americas Rugby News have been coming out with more details. According to a release by the BRU the U.S. is scheduled to play Brazil in Sao Paulo on February 27th. That's the only specific date that is out there but the U.S. will also apparently be hosting Uruguay at some point according to r
eporting from Paul Tait
.
We've also been able to learn from sources (and confirm what Paul previously noted) that the U.S. will host three matches with Uruguay being one of the incoming teams. Due to the season, the tournament will run from February 6th-March 19th, warm weather locations in California, Texas, and Florida are being scouted. Don't expect big stadiums but smaller, closer to 10,000 seat stadiums, to host the matches. Despite it being a release window the U.S., Canada, and Argentina are all expected to field teams devoid of their European professionals.
Take the jump to read more.
Reasonable speculation should lead to multiple games when the U.S. travels down to Brazil. It wouldn't make financial sense to send the U.S. down one week at a time to South America. It makes much more sense to have them play their remaining two matches on the same trip.
It's also reasonable to assume that certain teams will be paired with each other for travel purposes. For example, if Uruguay comes to the U.S. it would make sense that they would play Canada the week before or the week after. When Uruguay is playing one of the U.S. or Canada their companion team, say Chile, would be playing the other team. The same thing for the U.S. and Canada heading down to South America together. Those travel partners would then play each other to round out the schedule.
There is still more to come and a lot will be decided after the World Cup but it's something to keep an eye on.