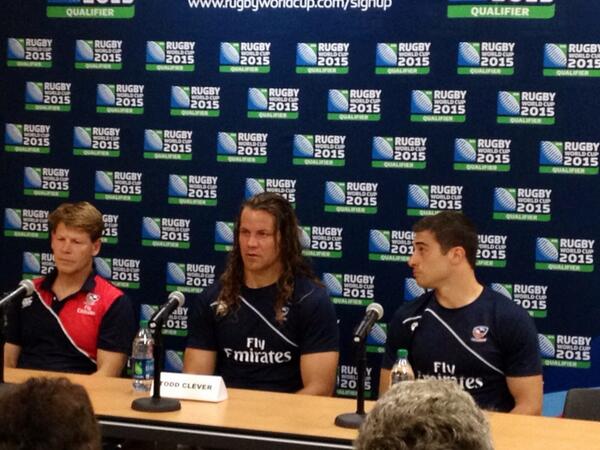 Issuing player ratings for last Saturday's match was difficult. Only a few players had consistently good performances. The rest? Well, they were all over the map. Some did things really well at times but then cost the team at other moments.
Olive Kilifi (6):
Once again he was one of the scrummagers despite the early struggles. His loss just 19 minutes in the match hurt. If he keeps improving he could be a major asset going forward.
Phil Thiel (7):
Thiel gets high marks from us mainly because of the way he smoothed things over with referee Greg Garner. You could tell that Garner was getting tired of the Eagles complaints so it was important that someone step in and play peacemaker. That person was Thiel.
Eric Fry (5):
Fry showed exactly why he is out there when he smartly picked up the ball at the back of ruck and powered over for the try. However, his scrumming abilities weren't even close to where they should be.
Take the jump to read more.
Lou Stanfill (5.5):
Coming on for Hayden Smith from the last match Stanfill brought good energy and strong tackling. However, he also got caught up too much in Uruguay's games. He needed to remain more calm.
Samu Manoa (6):
A bit quiet but he did very well to shut down anything Uruguay were trying to do at the lineout. In the end it became somewhat comical how many times the U.S. were able to steal the ball. He also did well at the breakdown and set up Fry's try.
Todd Clever (5):
Clever is another player that did some things well while struggling in other aspects. He was solid at the breakdown but his dialogue with Garner was antagonistic and did not help the Eagles at all. A captain needs to be better.
Scott LaValla (7):
LaValla could have easily been a choice for Man of the Match. His job on the team is do to a lot of the hard work that isn't noticed. He did that very well. His leadership is outstanding.
Cam Dolan (7):
A great rebound game for Dolan after a so-so outing in Montevideo. He made great runs and dug in on defense. Perfect work from a number eight.
Mike Petri (5.5):
His heads up play on his try was brilliant and showed great rugby smarts. However, in his duties as a scrumhalf he was lacking. Too often he took too long to pass the ball. The hold-up allowed the Uruguayan defense to get up quickly and either tackle him or disrupt play. His box kicking wasn't great either.
Toby L'Estrange (5.5):
We've said it before that we think L'Estrange could be a solid contributor to the Eagles but fly-half isn't his position. It wasn't his fault he didn't get the ball in a timely manner but there were too many mistakes from an international fly-half.
Luke Hume (6.5):
He didn't have a lot of touches on the ball but when he did he made things happen. His pass to Andrew Suniula to set up a try was well done.
Andrew Suniula (6):
A trip to the bin for a punch, a try, and everything else in-between categorized Suniula's day. You could tell that he was disappointed to let himself be dragged into Uruguay's games so it was good to see him comeback and be active.
Seamus Kelly (6):
We could have sworn he didn't touch the ball (obviously exaggerating) in the first half but that wasn't always his fault. The second half he made his presence felt.
Blaine Scully (6.5):
Like the rest of the backs he didn't see much of the ball but he was very committed to doing the hard work throughout the match. His smarts on the backline are invaluable.
Chris Wyles (7):
A huge rebound performance from Wyles after last week. He is the Eagles most consistent player and arguably their most indispensable. His kicking for goal was alright but his kicking from hand was good.
Substitutes
Nick Wallace (5.5, 51 minutes):
Poor Nick Wallace. He comes on as a relief prop once again and for the second week in a row his is sacrificed to the bin as part of their scrum troubles. He did settle down but still struggled in the scrum.
Titi Lamositele (6, 23 minutes):
Lamositele continues to grow as a player. You wouldn't guess he is 18 by the way he plays.
Shalom Suniula (7, 15 minutes):
For the second week in a row Suniula came on and brought energy to the team. His juke on his try was outstanding and he got the offense moving just when they needed it.
Tai Tuisamoa (5.5, 10 minutes):
Quiet day for Tuisamoa but still did well.
Tim Maupin (5.5, 9 minutes):
Rarely saw the ball once he came on.
Kyle Sumsion (5.5, 8 minutes)
: He came in and did his part but didn't have enough time to make a big impact.
Tom Coolican (6, 6 minutes):
Very active after he came on and nearly had a try for being proactive.
Folau Niua (NA, 2 minutes):
Not enough time for a grade.