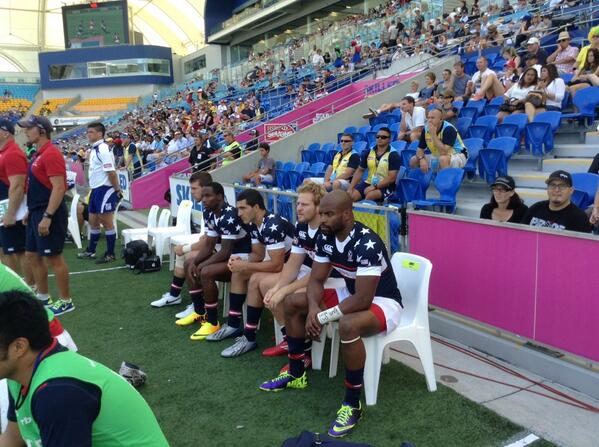 The Eagles will find themselves in the Bowl competition tomorrow as they lost their second match of the Gold Coast 7's 31-5 to Kenya. Because of their earlier loss to New Zealand and Kenya's earlier win over Tonga the U.S. needed to beat Kenya in order to have a chance to play in the Cup. But like the New Zealand match they were dominated from the start and never really threatened Kenya. Collins Injera got the scoring started for Kenya just over a minute into the match. The U.S. kept possession on the kick off but a needless kick from Jack Halalilo gifted Kenya the possession they needed.
Credit to Kenya for looking sharp and taking advantage of every U.S. mistake, and there were plenty of mistakes. The U.S. simply committed too many turnovers and penalties that gave Kenya the ball. The Kenyans took full advantage to score easily tries from Oscar Ouma and Billy Odhiambo to end the half. The second try was particularly painful in that it came after the hooter. 19-0 to Kenya at the half.
The second half started with Kenya getting another quick score from Odhiambo. A flurry of substitutions seemed to help the U.S. keep a little more possession but they consistently failed to even get out of their own half. Kenya put the final touches on the win when Injera blew through some poor tackling for Kenya's final score.
Carlin Isles did have a consolation try for the US. but it was too little too late. Isles was very effective when coming on and probably should have played more. Final scored: U.S. 5-31 Kenya.
Up next for the team is Tonga at 3:02 a.m. et/12:02 a.m. pt.
Eagles Starters:
Hawkins, Test, Halalilo, Thompson, Niua, Enosa, and Edwards