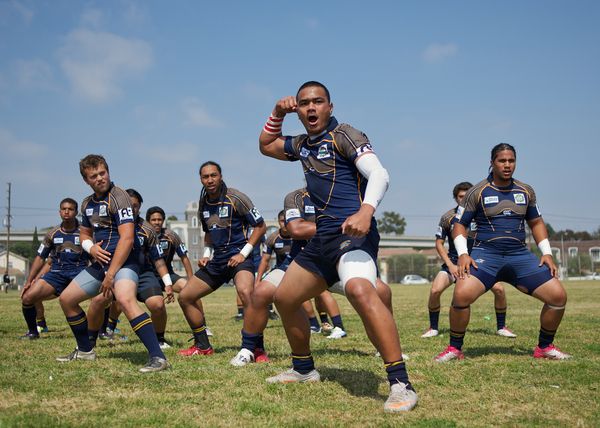 It was a pretty quiet weekend for 7's given the holiday, but with the West holding a qualifier and the Midnight 7's there are a few changes in our rankings.
1. Belmont Shore:
The team sat idle over the holiday but they are looking like the best team in the country. They'll have to wrap up SoCal with a win at the home tournament.
2. Chicago Lions:
The Lions have the Midwest sewn-up. They have plenty of momentum going forward and have a lineup that can challenge any team in the country. They were idle last week.
3. San Fransisco Golden Gate:
The biggest challenges for SFGG are yet to come but there is no reason they can't emerge as number one in NorCal. The only distraction for the team may be the World Cup 7's.
Take the jump to read more.
4. WE Rugby:
The Woodlands Exiles, now WE Rugby were dominant at the West qualifiers over the weekend. The Arkansas State contingent has the team playing well and if they can qualify for nationals (which they should), they should make some noise.
5. Old Aztecs:
Again, another team that had the weekend off. Plenty of talent and could have some of their national teamers back soon.
6. Kansas City Blues
: The Blues lost in the semi-finals over the weekend but still sit tied with WE Rugby at the top of the West table. However, a few more slip-ups and they could be passed by a team like the Denver Barbarians.
7. Seattle-OPSB:
With players like Miles Craigwell, Mike Palefau, and Ismeli Daveta at their disposal Seattle-OPSB has to be one of the favorites, but they have yet to really get rolling.
8. Milwaukee Barbarians:
Can they keep up their good play? There is no reason why they can't.
9. New England ODA:
A win in the Midnight 7's will be a big boost to the program. As they spend more time together they continue to get better and better.
10. Santa Monica:
SoCal is tough but all they need to do is have a strong performance in the Belmont Shore 7's to advance to nationals.
Honorable Mention: Denver Barbarians, Old Blue, Long Island