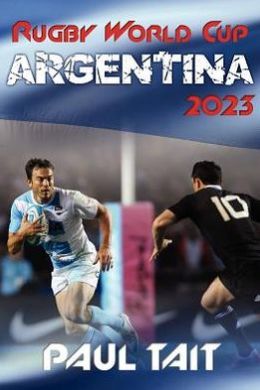 Here is an interesting thought, by 2023 the World Cup will have been in Europe four times, Oceania three, and Africa and Asia one. Noticeably absent from that list is the Americas, the only IRB region that has yet to host a World Cup. Paul Tait in his book
Rugby World Cup Argentina 2023
advocates that Argentina is the most worthy host for 2023 and deserves the opportunity. It's easy to see where he comes from. Argentina have proven themselves time and time again as a strong Tier I nation, capped off by their third place finish in the 2007 World Cup. They have a strong tradition and with their introduction to The Rugby Championship they have shown that they are capable of hosting big matches. But the real question is whether the powers that be at the IRB will see it that way.
Take the jump to read more.
Rugby World Cup Argentina 2023 begins by outlining the history of rugby in Argentina. From its beginnings in the late 19th century rugby has had a prominent place in sport in Argentina. When given the opportunity against visiting teams Argentinian sides had success. That continued well into the amateur era. However, as Tait illustrates, the professional era has really seen Argentina come into their own. They now have a robust domestic competition and have dozens of players playing professionally overseas. Players like Juan Martin Fernandez Lobbe have established themselves as legitimate international stars.
After laying out the playing history of the Argentinian national team Tait then outlines how Argentina has the infrastructure to host the tournament and has hosted similarly large tournaments in the past. He also explains how hosting the tournament in the Americas would provide a the IRB with an opportunity to reach further into untapped markets.
Tait has certainly taken the time to present a detailed argument. Rugby World Cup Argentina 2023 is worth the read alone just to get a comprehensive look at rugby in Argentina. As with every argument, Tait's is not without holes. For example, Argentina had to withdraw from hosting a leg of the IRB Sevens Series this season due to a lack of funds. They have also failed to get a professional competition off the ground despite help from outside sources. These are glanced over in the book for a more rosier picture of Argentina. Still, Tait's argument is overall persuasive. Argentina has a legitimate case for hosting the World Cup in 2023. Perhaps if a bid was combined with one from the U.S. and Canada (two pools in Argentina and one each in the U.S. and Canada) it would be enough to convince the IRB.